John D. Bowles Family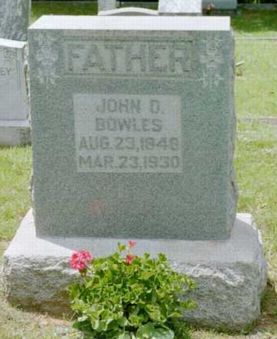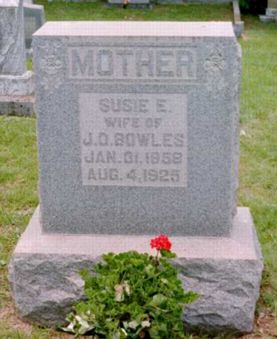 John Dandridge Bowles (b. 23 Aug 1848; d. 23 Mar 1930), son of Austin W. and Nancy (Clark) Bowles, married Susan E. Neville on 25 Sep 1873 in Metcalfe County KY. Susan (b. 31 Jan 1858; d. 4 Aug 1925) was a daughter of Joseph and Lucinda (Pace) Neville. John and Susie Bowles had nine children: Hattie, Clarence, Bernie, Flora, Mattie Velma, Pearlie, Dimple, Bob, and Lelia. They lived briefly in Kansas before returning to Kentucky to spend the rest of their lives. They are buried in the Summer Shade Cemetery.

Hattie Bowles married William Hays and they had a son, Don who died in 1967. Hattie, who was born on 28 Oct 1874 in Wilson County KS, died on 28 May 1941. She is buried in the Smith Grove Cemetery in Warren County, Kentucky. Clarence Bowles (b. 18 Mar 1876; d. Jun 1970) married twice and had two daughters and a son. He lived in Idaho for much of his life until his death in 1970. He is buried in Twin Falls, Idaho. Bernie Bowles married once to Kate McMurtrey and had one child. He died in Denver, Colorado in early June 1925. It is uncertain where he is buried. Flora Bowles (b. 22 Mar 1879; d. 1 May 1961) moved to Georgia and married John Lane. She died in Fulton County GA. Mattie Velma Bowles (b. 22 May 1881; d. 18 Feb 1934) remained single, and died in Warren County in 1934. She was buried at Summer Shade. Pearlie Bowles (b. 27 May 1884; d. 15 May 1885) died just before her first birthday. Dimple Bowles (b. 1 Apr 1886; d. 9 Aug 1985) married Charles Raven in Atlanta GA. She died there at the age of 99. Ocie "Bob" Bowles (b. 28 Oct 1889; d. 10 Nov 1937) never married. He lived in Atlanta until his death. He too was buried at Summer Shade. Finally, Lelia Ethel Bowles (b. 14 Mar 1893, d. 14 Dec 1991) never married, and worked as an educator. Late in life she joined her sisters in Atlanta where she died in DeKalb County GA in 1991 at the age of 98.