The Family of Samuel & Virginia Morgan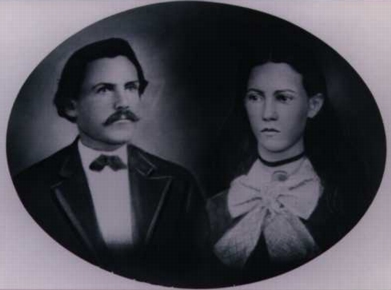 Samuel Graven and Virginia (Huffman) Morgan
Samuel Graven Morgan, son of Henry A. and Eliza (Hood) Morgan, married Virginia Huffman, daughter of Simeon and Sarah (Hamilton) Huffman on 6 Dec 1874. Samuel and Virginia had four children, all sons. Their first born, Hewie Allen Morgan, died as an infant before his first birthday. Next was Eddie Melvin Morgan, born 28 Mar 1877. Eddie married Roxie Jobe in 1909 and they had five children: Rollin, Delza, Calvin, Ramonia, and Melvin (Buddy).
Hezzie Ewen Morgan was Samuel and Virginia's third son. He first married Tisie Huffman, daughter of Stacy and Mary Jane (Wade) Huffman, and they had one child, a daughter named Rosa. Tisie died at 28, and Hezzie married again; this time to Jennie Mosier. Hezzie and Jennie had one child, Ewen Marcus who died as an infant.
Johnnie Morgan was next. He was born in 1885, but died before his twentieth birthday in 1906.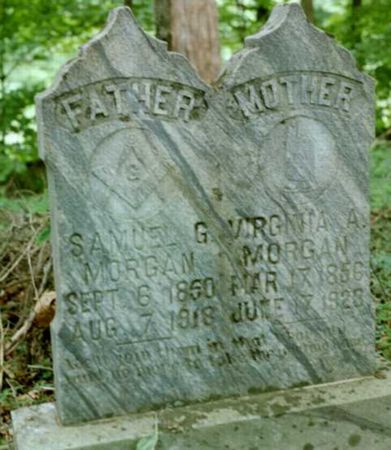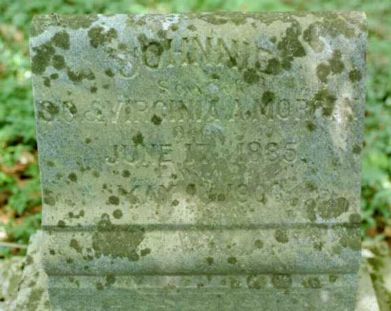 Samuel Graven MORGAN
b. 6 Sep 1850, Monroe County, KY
d. 7 Aug 1918, Jefferson County, KY
Virginia Allen (Huffman) MORGAN
b. 17 Mar 1850, Monroe County, KY
d. 17 Jun 1923, Metcalfe County, KY
Campground Cemetery
Metcalfe County KY
Johnnie Morgan
b. 17 Jun 1885; d. 1 May 1906
bur. Campground Cemetery, Metcalfe Co. KY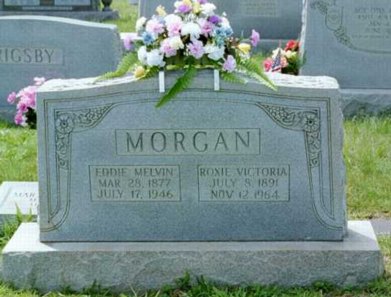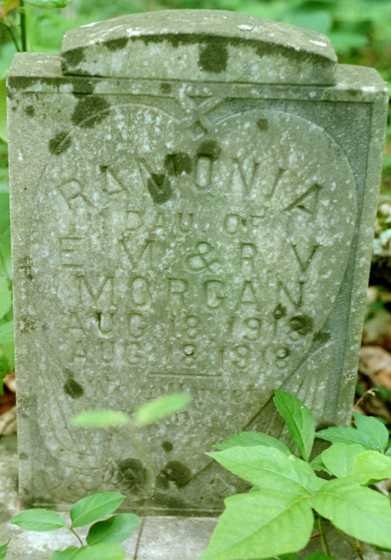 Eddie Melvin MORGAN
b. 28 Mar 1877; d. 17 Jul 1946
bur. Summer Shade Cemetery, Metcalfe Co KY
Roxie (Jobe) MORGAN
b. 8 Jul 1891; d. 12 Nov 1964
m. 2 Jan 1909 to Eddie M. MORGAN
daughter of John Harrison and Suzie E. (Laswell) JOBE
Ramonia MORGAN
b. 18 Aug 1918; d. 18 Aug 1918
bur. Campground Cemetery, Metcalfe Co. KY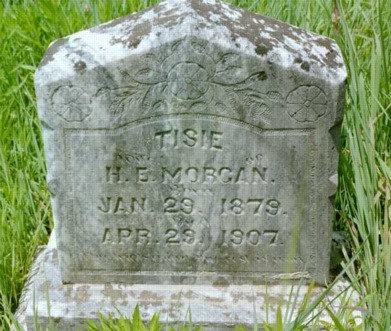 Elizabeth Priscilla "Tisie" MORGAN
b. 29 Jan 1879; d. 29 Apr 1907
m. 11 Jul 1901 to Hezzie Morgan
bur. Wade Cemetery, Metcalfe Co. KY
daughter of Stacy B. and Mary Jane (Wade) HUFFMAN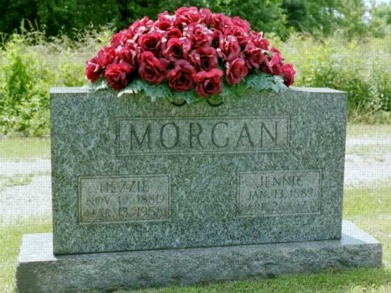 Hezzie Ewing MORGAN, b. 19 Nov 1880;
d. 13 Mar 1958; bur. Beaumont, KY;
son of Samuel and Virginia (Huffman) MORGAN.
Virginia Morton (Mosier) MORGAN; b. 13 Jan 1889;
d. 26 Apr 1974; m. 16 Apr 1911 to Hezzie MORGAN;
daughter of Jim and Frankie Mosier