Pace - Clark Graves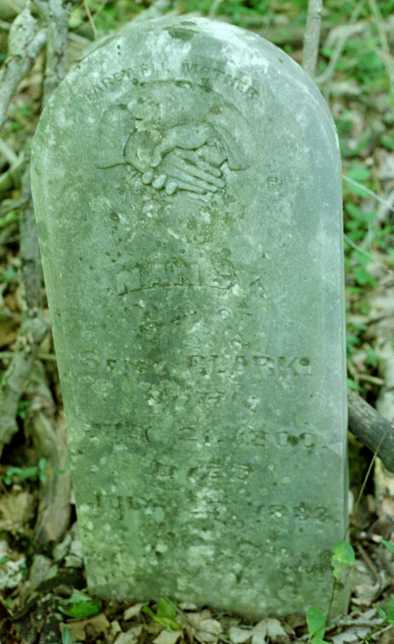 Nancy Gatewood (Pace) CLARK
b. 21 Jul 1800, Virginia
d. 23 Jul 1883
Nancy Gatewood Pace, a daughter of William Ingram Pace and Sallie (Nunn) Pace, married Samuel Clark on 22 Dec 1818 in Barren County KY. Samuel died in late 1827 at Dixon Springs TN where the family had moved. Then Nancy brought her children back to Barren County to be near family. Samuel and Nancy had 7 children: Sallie Ann, Elizabeth Ann, Eliza Frances, William Henry, Lucinda Sarah, Joseph Jefferson, and Nancy Hayden Clark.
Additional information about the Clark and Pace families is available in 1905 family history written by William Henry Clark at this site.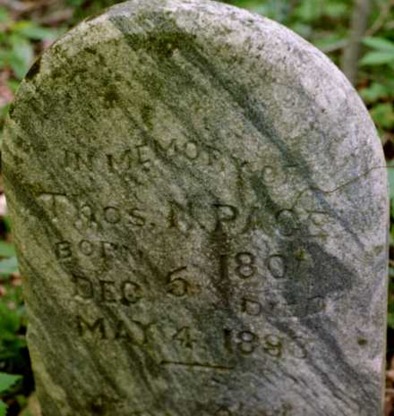 Thomas Nunn PACE
b. 5 Dec 1801, Cumberland, Ky
d. 4 May 1893
Nancy and her brother Thomas Nunn Pace have tombstones in a small plot called the Pace-Hensley Cemetery which is located on a small knoll just northeast of the intersection of Highway 90 with the Edmonton Road. It is grown up and invisible from the road.
Thomas Nunn Pace, brother to Nancy Gatewood Pace, married Docia Williams and they had 7 children: William, Sallie Ann, Joseph, Elizabeth Frances, Edward, John, and Henry Slaughter Pace. The family moved to Lewis County MO sometime before 1840. Following Docia's death in 1841, Thomas moved back to Kentucky, settling in Cumberland County. As the children grew up, Thomas lived with first one and then the other until the end of his life.