The Joseph and Elizabeth Groome Family
Joseph Groome married Elizabeth Smith on 5 Dec 1836 at Saint Leonard's Church in Shoreditch, London, England.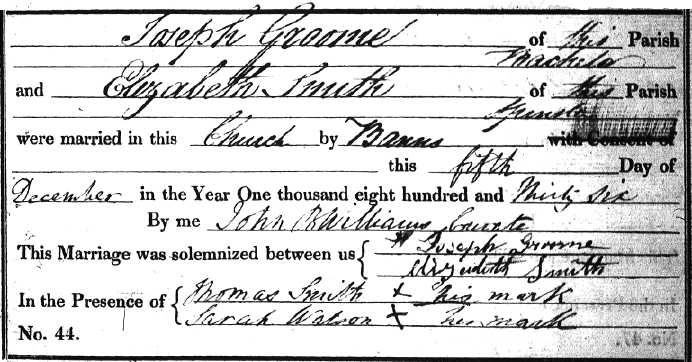 Five years later, Joseph and Elizabeth appear in the 1841 census with their first two sons, Joseph and Thomas. The census record indicates that all of them were natives of Middlesex County, and that they were living on Cross Street in Hoxton New Town which is in the heart of London's industrialized East End. This was in the civil parish of St. Leonard Shoreditch.
Joseph's occupation was given as shoemaker.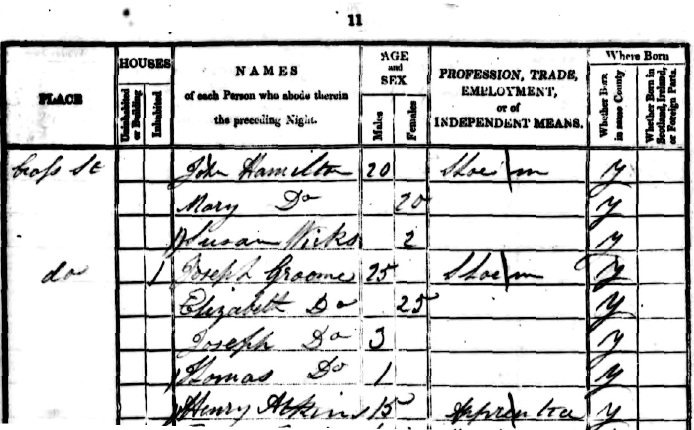 On 29 Sep 1847, John and Elizabeth took their four sons to St. John the Baptist Church in Hoxton to be baptized.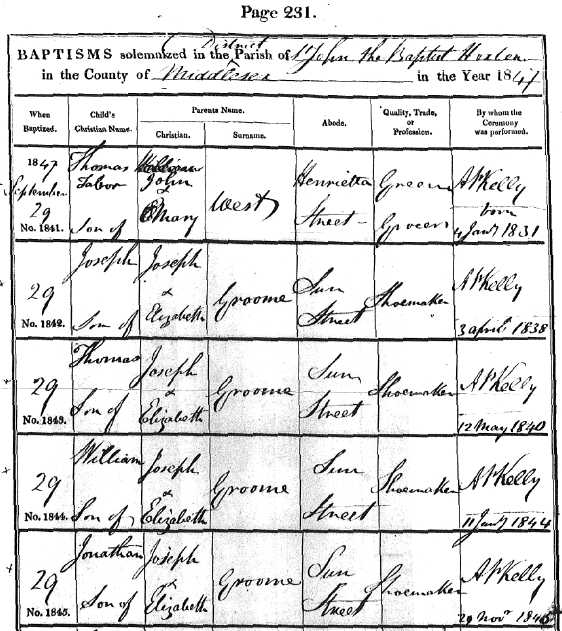 Joseph had been born on 3 Apr 1838, Thomas on 12 May 1840, William on 11 Jan 1844, and Jonathan on 29 Nov 1845. Although Joseph and Elizabeth had been married at St. Leonard's, they may not have been regular in attendence. That may explain why they waited until 1847 to have all four boys baptized, and chose to go to St. John's instead of back to St. Leonard's. By this time they were living on Sun Street.
Here are present day pictures of St. Leonard's (on the left) and St. John's churches in London. Although St. Leonard's is listed as being in Shoreditch, and St. John's in Hoxton, they are only minutes apart for a person walking.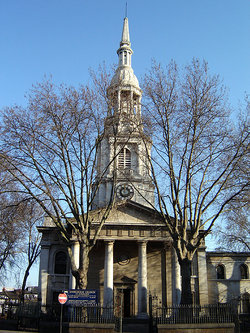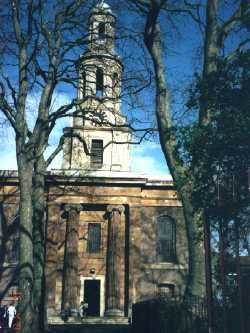 On 14 Oct 1850, a ship named Hazuenas arrived at New Orleans from Liverpool, England with 290 passengers, immigrants from England and Ireland to America. Judging from the size of the passenger list, it is likely that the passage was a crowded, difficult one.
Joseph and Elizabeth Groome, and their four sons, Joseph, Thomas, William, and John, were on the Hazuenas.† What made them decide to leave London, travel to Liverpool, and then to America is as yet unknown, but it seems likely that they were seeking a better life.
† [National Archives Series M259-32. Family History Library film #0200164 (New Orleans Arrivals 15 Apr 1850 - 31 Oct 1850). Family #458689]
The family must have travelled up the Mississippi, perhaps to Memphis, soon after arriving in America for, on 24 Aug 1851, Elizabeth gave birth to her fifth son, Richard who was born in Tennessee (according to census records). It is not clear how long they remained in Tennessee, but they were living in Vicksburg, Mississippi by 6 Aug 1856 when they buried an infant son, Robert, in that city.
Elizabeth gave birth to her seventh and final son, Charles, on 17 May 1857 in Vicksburg.
The 1860 census lists the family. Both Joseph and Elizabeth as shown at age 43; Joseph was working as a shoemaker. The eldest son is named as James, causing us to wonder if his name was James Joseph (or Joseph James) Groome. This is the only place where he is thus identified. He was 22 and also a shoemaker. Thomas, age 20, was a carpenter; and William, age 15, was working as a printer. The other children listed were John (14), Richard (8), and Charles (3). [1860 Federal Census: Mississippi, Warren County, page 8, household 60, line 28]
The beginning of the Civil War greatly affected this family. The three oldest sons, Joseph, Thomas, and William, joined the 28th Mississippi Cavalry, and they were joined by their younger brother, John, as soon as he was old enough to be a buglar. Then came a great tragedy. On 28 May 1863, during the siege of Vicksburg, a Union shell fired from a gunboat on the Mississippi entered their father's shop and, according to family legend, decapitated Joseph Groome, their father. We do know from funeral home records that he was killed by a shell.
Illness and the terrible struggles of life in Vicksburg during and after the siege, coupled with the loss of her husband, led to Elizabeth's death on 3 Feb 1867.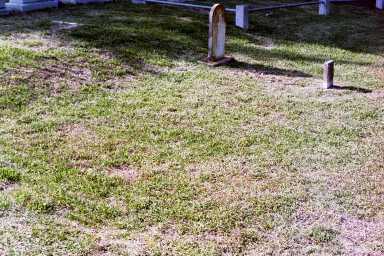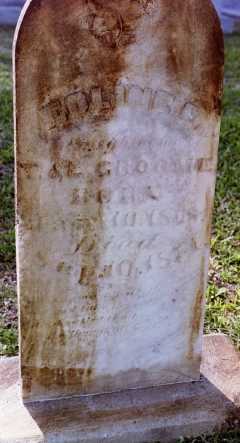 While no tombstones have been located for Joseph and Elizabeth, we think they were buried in the Vicksburg City Cemetery. There is a plot there (shown above) that contains a stone for an infant daughter of Thomas Groome. Nearby are unmarked spots that could be the burial sites for Joseph and Elizabeth.
The stone shown to the right is the same one as shown above. It is for Eoline Groome, infant daughter of Thomas and Laura Groome.
Little more has been learned about Joseph and Elizabeth. We believe that Joseph was born 13 May 1817 in Shoreditch to Joseph and Celia Groome, as indicated in the baptism record below. The location, the general date of birth, the fact that this Joseph (husband of Celia) was also a shoemaker, and the fact that no other Joseph Groome has been found in the St. Leonard's records close to the time that he would have been born (1814-1818), all lead us to conclude that this is our Joseph.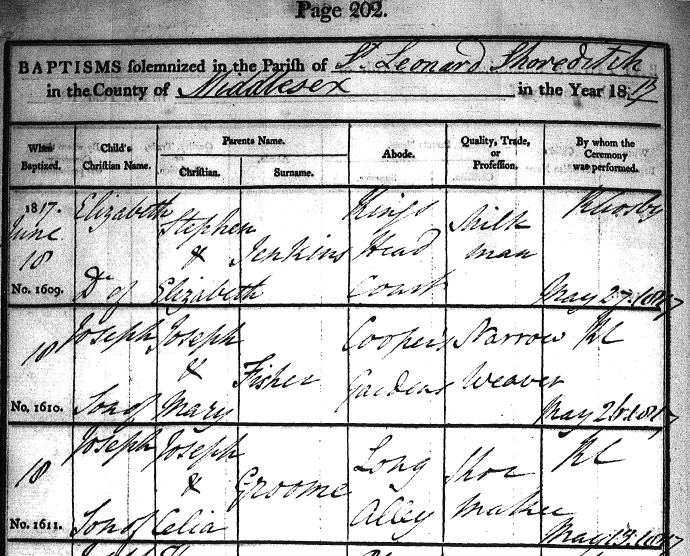 The Fisher Funeral Home record for Elizabeth Groome stated that she died on 5 Feb 1867. An obituary in the Vicksburg newspaper indicated that she died on 3 Feb 1867 and was buried on 6 Feb 1867. The Funeral Home notation shows that she was 51 years, 17 days old when she died. If this is accurate, we can conclude that she was born on 17 or 19 Jan 1816. There are no Elizabeth Smith entries in the St. Leonard's records for that date, and with a common surname of Smith, it has been impossible for us to identify her parents.
What we know about the seven Groome sons is given in pages that can be accessed from the opening page for this family.