Rhoda Bowles
Rhoda Bowles was the tenth child and third daughter born to John and Celia Bowles. I estimate that she was born about 1832, based on the ages of her siblings, although I have not found it substantiated anywhere as yet. Rhoda married Stephen White on 28 Feb 1849. They had one child, a son named John M. White who was born December 1849. Rhoda died 14 Apr 1850.
Stephen White next married Caroline Sartin Clark, who had first been married to William Winchester Clark. When they moved to Paris, Illinois, he left his son, John, with the boy's grandfather, John Bowles.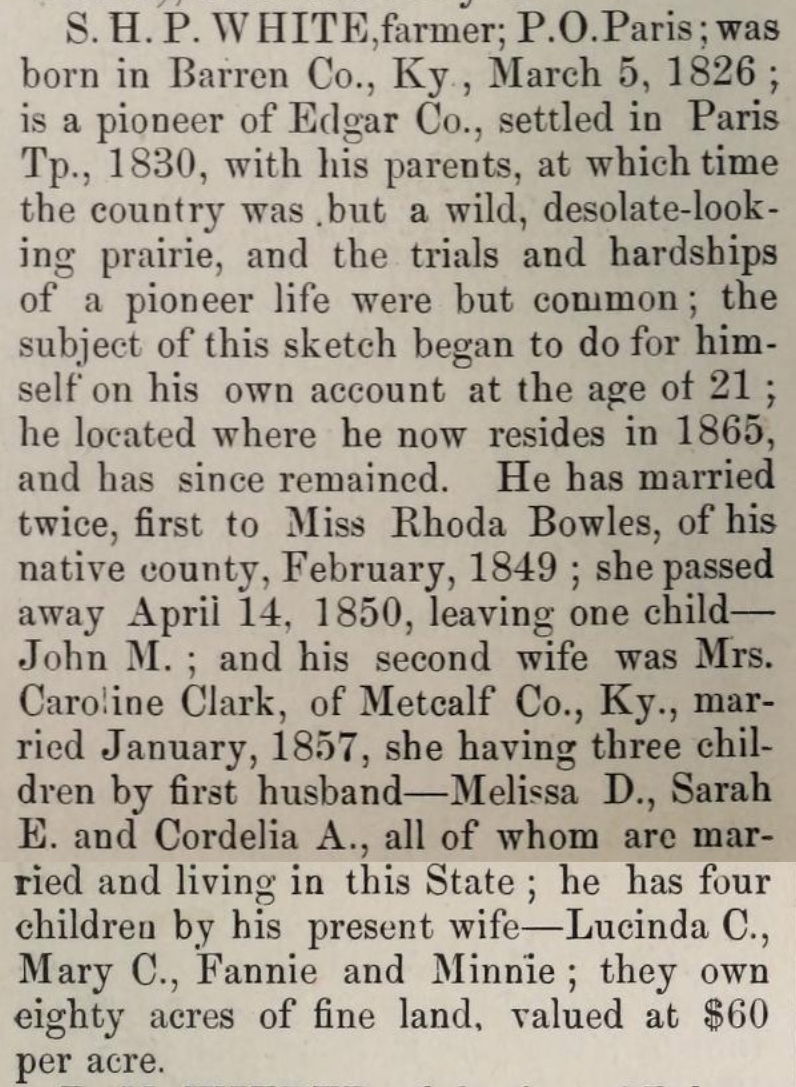 Much of what we know about Stephen and Rhoda comes from The History of Edgar County, Illinois. The clipping shown here comes from pages 608-9 of this volume published in 1879.
John M. White married Martha F. Martin, daughter of Caffrey and Malinda Martin, on 16 Aug 1871.
White, John M. and Martha F Martin. Bond 16 Aug 1871. John A. Asberry on bond. Consent by Malinda Stephens, mother of Martha. Groom age 21. Bride age 16. Married 16 Aug 1871 at A. C. Stephens' by Willis Galloway. Wit. John A. Asberry and T. L. Salmon. [Metcalfe County Marriages (volume1, 1868-1883) by Judy Froggett, page 122]
By 1880, John White was married with four children. He and his wife Martha, and their children, Mary, Charles, William, and Walter, were living in Edmonton. [1880 Federal Census - Edmonton, Metcalfe Co KY - Page 167A] Sometime before 1889, Martha died. About that year he married a lady named Hibernia. [1900 Federal Census: Kentucky, Metcalfe County, ED 53, page 4A] John and Hibernia had ten children: Nellie, Ethel, Bertha, Orma, Claude, Clyde, Mattie, Eliza, Paul, and Fred.
John received an inheritance from his uncle, Obadiah Bowles, that had been meant for his mother, as shown below.
In the Superior Court of the County of El Dorado, State of California
In the matter of the Estate of Obadiah W. Bowles, Deceased.
I, John M. White, of Edmonton, Kentucky, the son of Rhoda Bowles deceased, who was named as a legatee in the last Will and Testament of Obadiah W. Bowles Deceased, do hereby acknowledge that Edward E. Twitchell the Executor of the last Will and Testament of said Obadiah W. Bowles Deceased, has paid over to me the sum of Five hundred Dollars (less the sum of Five Dollars paid by him under the order of the above entitled Court to E. W. Witmer who was appointed by said Court to represent the interest of my said mother in the settlement of said Estate) being the sum bequeathed by said Obadiah W. Bowles, deceased, to my said mother Rhoda Bowles, and which was by the Decree of the said above entitled Court distributed to me as the lineal descendant of said Rhoda Bowles, deceased, on the 30th day of April 1897.
John M. White
Son of Rhoda Bowles deceased
Witness:
C. W. Thompson
W. B. Smith, cashier, 1st National Bank of Glasgow KY
John died in Metcalfe County on 1 Aug 1934 at the age of 84. Hibernia died 19 Oct 1938.