Ethel Smith Davis Family
Ethel Watkins Smith was the third child and first daughter of Alexander and Nida (Hewett) Smith. Ethel was born 27 Dec 1878 in Louisiana (likely New Orleans). She moved with her parents to Vicksburg, Mississippi by the 1900 census.
Sometime in the first decade of the century she married Elon Jay Davis, likely in Mississippi.
Mr. Davis was born 23 Oct 1870 in Edwards, Mississippi to Joseph and Amanda (Watson) Davis.
Elon and Ethel appear to have moved a bit, with children born in both Mississippi and Louisiana before they settled in Austin, Texas.
Eunice Levere Davis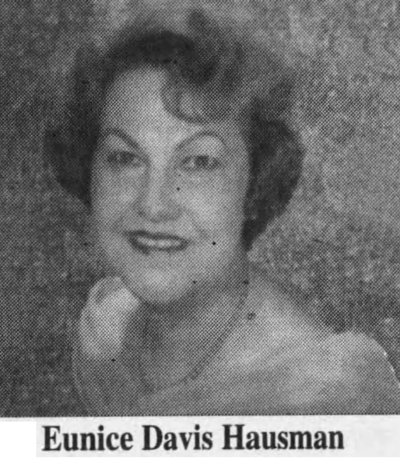 Their first child was a daughter they named Eunice Levere. She was born 10 May 1907, in Vicksburg. Moving to Austin at age 10, she married Louis C. Hausman there, and developed her own business, a group of beauty shops.
Eunice and Louis had one daughter, Cleo Patricia who was born in 1924. Cleo was married to Judge John W. Chandler and they had three children. Cleo, who was a microbiologist at the University of Texas Health Science Center in Dallas, died in April 1978, preceding her parents.
Louis Hausman had retired as a paint contractor and rancher when he died in May 1986.
Eunice later moved from their ranch in Bastrop, Texas to Dallas where she died in November 2001, age 94.
Doris Jeneva Davis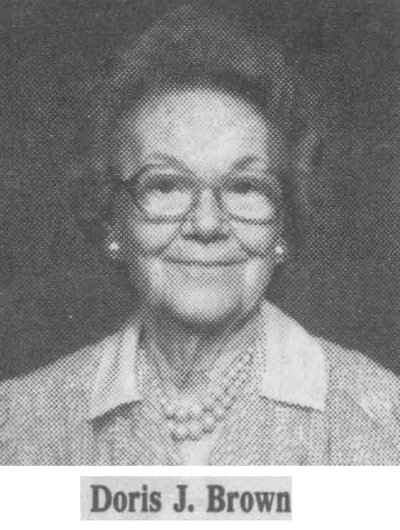 Elon and Ethel's second child, named Doris Jeneva, was born in Aug 1908, also in Mississippi. Doris married Hiram L. Brown in Hays, Texas in July 1928.
1940 census records indicate that Hiram was a salesman for an oil company, and that Doris worked as a stenographer at the University of Texas in Austin.
We know from their obituaries that they had two children, a son named Robert and a daughter named Joyce.
Hiram died on 9 Jul 1980, and Doris followed exactly a decade later on 9 Jul 1990.
Elon Jay Davis, Jr.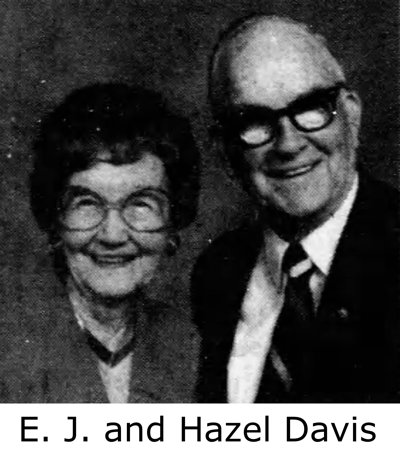 Elon Jay Davis, Jr. was born 24 Feb 1910 in Louisiana. He married Hazel Gage and they had three sons: Jay, Thomas Patrick, and James Michael Davis.
They were long-time residents of Austin, Texas where E.J., as he was known, worked in the hardware business and life insurance business.
Hazel, who was born in June 1910 to William Munson and Pearl (Campbell) Gage, died on 20 Apr 1992. E.J. died on 14 Jun 2001.
Joseph Alexander Davis
Joseph Alexander Davis, Elon and Ethel's fourth child, was born 16 Jul 1912 in Vicksburg. He married Dorothy Nell Pate in Texas, and they had two sons, Richard Lee and Gerald Steven Davis.
Joe was in the grocery business for over fifty years.
Dorothy Nell was born 16 Sep 1916 to Richard and Georgia Ann (Heath) Pate, Jr. She died in December 1971 in Austin.
Joe lived until May 1990.
Edward Hewett Davis
Elon and Ethel's fifth child was a son they named Edward Hewett Davis. Hewett was born 19 Feb 1914 in Louisiana. He married Katherine Elizabeth Reid and they had a daughter Muriel Marie, and a son Edward Hewett Jr.
Hewett was a certified public accountant and a retired federal government auditor with defense contract audit agency.
Katherine was born 27 Oct 1918 in Virginia to George David and Maggie Myrtle (Gore) Reid. She was very active in her church and community, and was a national flower show judge.
Hewett died in Fort Worth, Texas in June 1988. Katherine died there in September 2000.
Ethel Amanda Davis
Elon and Ethel's last child was a daughter they named Ethel Amanda. Regrettably, she died just before her second birthday in October 1920.
Elon Sr., who also went by E.J., operated the Davis Cash Grocery in Austin for many years. He died there in December 1959.
Ethel lived another decade, dying in December 1969.