Isaac & Elizabeth (Wallace) Minard
Isaac Thomas Minard married Elizabeth Sarah Wallace, daughter of Major James D. Wallace in 1833. She was a sister of James S. Wallace. We have these reports of her marriage to Minard.
The Gospel Messenger, Auburn, Saturday 19 October, 1833 reported - "Minard, Isaac T., Esq., of Baldwinsville, to Miss Elizabeth Wallace, eldest dau. of Major James D. Wallace, marr. on Tues. a. m. at St. Peter's Church by Rev. Mr. Lucas". The Auburn Journal, 23 October 1833 reported - "Wallace, Elizabeth Sarah, eldest dau of Maj. James D. Wallace, to Isaac F./T. Minard, Esq., marr. of Tues 22nd inst by Rev. Wm. Lucas at St. Peter's Chh in this village".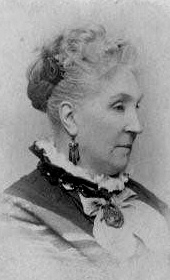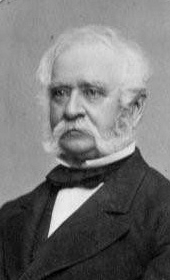 Isaac and Elizabeth taken later in life.
This article was in the Semi-Centennial Number of the Baldwinsville Gazette, (no date given) page 15: "Col. Isaac T. Minard (condensed from the Gazette of March 15, 1888) The death of Col. Isaac T. Minard, which occurred Tuesday, March 13, 1888, at nine a.m., seemed sudden to most of our citizens. Indeed, it is seldom that a man of his age retains active habits and an unbent form so late in life, and until within a very short time he daily appeared upon our streets. His long residence and personal character made him one of our best known citizens. Col. Minard was born in New York City, April 20, 1806, being a son of Hon. Isaac Minard, a member of the Legislature in 1826-7, and was educated at Columbia College, of which he was one of the oldest graduates at the time of his death. After completing his studies he was admitted to the bar of New York by Judge Savage in 1828. On the marriage of his sister, Mrs. S. W. Baldwin, he came to this village in 1833 and lived here until 1840, having married Miss Elizabeth S. Wallace, daughter of Major James D. Wallace, in the year of his coming. Legal duties called him to Syracuse, and he served as surrogate of the county, holding that office by appointment of Governor Seward from June 1840, to February 1844, and then by election from June 1847 to January 1852. At a later day, from 1863 to 1867, he held a position in the Custom House at New York. He was much interested in military matters, and in 1843 organised the Syracuse Citizens Corps, a noted camp, and one of the best drilled in the state. He was for a while colonel of the 51st Regiment, N. G. In character and person he was a fine type of the citizen-soldier, both popular and efficient. Politically Col. Minard was a Whig in his earlier days, and always retained a strong interest in public affairs, though with a strong distaste for political tricks. Indeed, his high sense of honor was a marked feature of his character, as became a gentleman of the old school. Three children now survive him: Charles E. Minard, of Albany, Mrs. G. A. Bigelow and Mrs. J. M. Scoville, of this village."
A researcher, John Bookless who is married to a descendant of Major James D. Wallace, provides the following comments.
"Minard's sister, Eliza, married Stephen Warner Baldwin, son of Jonas Cutler Baldwin, considered by some local historians as the founder of Baldwinsville. According to her grave marker in the Baldwinsville cemetery she was born in 1799 and died on August 8, 1871. Stephen Baldwin was born in 1796 and died on January 16, 1837. They had at least five children - Isaac Minard Baldwin (b. August 25, 1828, d. June 25, 1894); Stephen Warner Baldwin (b. February 4, 1833, d. January 5, 1920); Adele Minard Baldwin (b. February 27, 1835, d. March 5, 1907); dates of birth and death are uncertain for Frank and Mary. I have a note from a source I failed to record that gives the date of birth for daughter Mary Elizabeth Baldwin as 1831. The Baldwin family can trace their lineage to Ezekiel Richardson who was a member of the group of Puritans who settled in the Boston area in 1630 under the leadership of John Winthrop.
"The graduation of Isaac T. from Columbia College is confirmed by the listing of his name in the 'Catalogue of Columbia College, in the City of New York, embracing the names of its trustees, officers and graduates' - printed for Columbia College by E. B. Clayton 1836. Isaac T. Minard is listed as the recipient of an A.B. degree in 1825. The actual date of his move to Balswinsville is somewhat vague. The book Attorneys Agents at New York, published by Peter Hill, 94 Broadway and printed by William Pearson, No. 60 Clift Street, listed Isaac T. Minard as an attorney in New York in 1833. Williams's Annual Register, published by Edwin Williams, 41 Cortland St., New York, printed by James Van Norden, 1834 listed Isaac as an attorney's agent in New York in that publication. The definition provided for Attorney's Agents - (extract from Rule 7th, Supreme Court, p. 2) - Every attorney shall have an Agent in each place where there is a Clerk's office, except in the city or town where such Attorney keeps his office. No person shall be an Agent unless he be an Attorney of the Court, or deputy clerk, in the clerk's office. He clearly moved to Baldwinsville by late 1833, if not earlier."