James Wallace of Scotland and New England
In 1914, James A. Phelps wrote The Wallace Family in America which was published by Williams M. Clemens in New York. A pdf version is available at the Family History Books. On pages 3-6, Mr. Phelps described the family of James Wallace of Scotland who came to New England in 1705.
Below, on the left, is an image of these pages. On the right is a transcription of the text.

At Lanark, Scotland, - the seat of the renowned knight, and the great Wallace family, about 1675, and of unknown parentage, JAMES WALLACE was born, (the predestined father of an American family,) the storying of whose life has here its primal delineation.
For five-and-twenty years he had dwelt among kindred; and then the development of his future began, and he drifted down the Clyde valley. Spending considerable time at Glasgow, then at Greenock, the waters of the Firth witnessed his unwilling transfer, to one of Britain's floating fortresses; there he was tutored in all the manaeuvers of warfare on the high seas.
The year 1705 found his barque headed toward the colonial realm of Her Majesty, and the seasoned man-o-war's-man indulged hopes of early release. In due time the ship was off the American coast, and entered Long Island sound, bound for New York, on a course well over to the northern shore. At noon-of-night, with Stratford Point astern, young WALLACE slid overboard on a trailing rope, and quite unobserved, headed shoreward, eventually reaching the sandy beach, at a point near Norwalk, Conn.
Within a year he acquired a wife in the person of Mary Hyatt, daughter of Thomas and Mary (St. John) Hyatt, who was born in 1682. They settled at Ridgefield, Conn., where a family of seven children were born and reared, viz:-
John, October 16, 1708; Rachel, February, 1711; James, February 6, 1713; Agnes, January 1717; Thomas, April 13, 1719; Jacob, August 31, 1721; Martha, July 25, 1724.
Serving the country of his adoption faithfully as a soldier, Sergeant JAMES WALLACE passed from life March 8, 1762, aged 87; his wife following him February 20, 1766.
JOHN WALLACE, the oldest son, married (1746) Martha Schofield, born in 1730, and removed to North Salem, N.Y., where they raised a large family, born as follows:-
John, June 2, 1747; and his twin sister Martha; Rachel, January 5, 1749; William, October 15, 1750; Jonathan, November 18, 1752; Samuel, November 17, 1754; Ruth, December 26, 1756; Jacob, June 1, 1759; James, July 8, 1762; Agnes, February 21, 1765; Epenetus, in 1766. The father died March 23, 1812.
Captain JAMES WALLACE, the second son, and his wife Abigail, born in 1712, were married in 1735, also settling at North Salem; their children were:-
James, born April 30, 1737; Abigail, December 21, 1740; Abijah, August 13, 1748; Uriah, October 22, 1750; Sarah, July 28, 1752; Deborah, in 1759. Captain James died March 20, 1782; and his wife, July 12, 1797.
THOMAS WALLACE, third son of James and Mary, died in October, 1742; and his younger brother, JACOB WALLACE in 1754.
WILLIAM WALLACE, second son of John and Martha, married Sarah Dickerson, about 1778, removing to Oak Ridge, N.J.
Three sons of Captain James and Abigail, (James, Abijah and Jacob), were in the army during the Revolution.
The eight children of William and Sarah, were born as follows: Amelia, August 27, 1780; Chloe, May 14, 1782; Charles Thele, April 25, 1788; William S., Mary 20, 1790; Sarah, October 3, 1793; Henry L., May 23, 1796; Eliza, April 4, 1802; John D., October 29, 1806.
HENRY L. WALLACE, third son of William and Sarah, married about 1818, Catherine Frederichs, born June 1, 1800; she died October 18, 1833, soon after the birth of their seventh child, noe of whom are recorded; he taking as his second wife, Rhoda Cobb, by whom he had two sons: William Henry, born June 27, 1840; and Edward Lewis, born June 21, 1843.
---
In 1848, Robert Bolton, Jr. authored a two volume set titled, A History of the County of Westchester from Its First Settlement to the Present Time. It was published by Alexander S. Gould in New York. The book is available here.
On pages 545-6, Mr. Bolton briefly describes the family of James Wallace. While a few details are different from the Phelps dialogue above, these two documents essentially support one another. An image of the text is shown below, with a transcription of it beneath the image.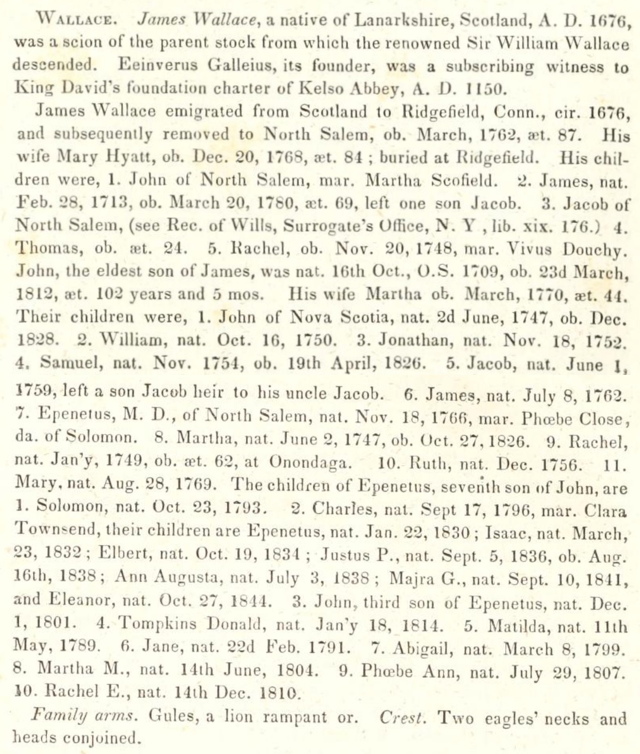 WALLACE. James Wallace, a native of Lanarkshire, Scotland, A.D. 1676, was a scion of the parent stock from which the renowned Sir William Wallace descended. Eeinverus Galleius, its founder, was a subscribing witness to King David's foundation charter of Kelso Abbey, A.D. 1150.
James Wallace emigrated from Scotland to Ridgefield, Conn. cir. 1676, and subsequently removed to North Salem, ob. March, 1762, ūt. 87. His wife Mary Hyatt, ob. Dec. 20, 1768, ūt. 84; buried at Ridgefield. His children were, 1. John of North Salem, mar. Martha Scofield. 2. James, nat. Feb. 28, 1713, ob. March 20, 1780, ūt. 69, left one son Jacob. 3. Jacob of North Salem, (see Rec. of Wills, Surrogate's Office, N.Y., lib. xix. 176.) 4. Thomas, ob. ūt. 24. 5. Rachel, ob. Nov. 20, 1748, mar. Vivus Douchy. John, the eldest son of James, was nat. 16th Oct., O.S. 1709, ob. 23d March 1812, ūt. 102 years and 5 mos. His wife Martha ob. March, 1770, ūt. 44. Their children were, 1. John of Nova Scotia, nat. 2d June 1747, ob. Dec. 1828. 2. William, nat. Oct. 16, 1750. 3. Jonathan, nat. Nov. 18, 1752. 4. Samuel, nat. Nov. 1754, ob. 19th April, 1826. 5. Jacob, nat. June 1, 1759, left a son Jacob heir to his uncle Jacob. 6. James, nat. July 8, 1762. 7. Epenetus, M.D., of North Salem, nat. Nov. 18, 1766, mar. Pheobe Close, da. of Solomon. 8. Martha, nat. June 2, 1747, ob. Oct. 27, 1826. 9. Rachel, nat. Jan'y, 1749, ob. ūt. 62 at Onondaga. 10. Ruth, nat. Dec. 1756. 11. Mary, nat. Aug. 28, 1769. The children of Epenetus, seventh son of John, are 1. Solomon, nat. Oct. 23, 1793. 2. Charles, nat. Sept 17, 1796, mar. Clara Townsend, their children are Epenetus, nat. Jan. 22, 1830; Isaac, nat. March, 23, 1832; Elbert, nat. Oct. 19, 1834; Justus P., nat. Sept. 5, 1836, ob. Aug. 16th, 1838; Ann Augusta, nat. July 3, 1838; Majra G., nat. Sept. 10, 1841, and Eleanor, nat. Oct. 27, 1844. 3. John, third son of Epenetus, nat. Dec. 1, 1801. 4. Tompkins Donald, nat. Jan'y 18, 1814. 5. Matilda, nat. 11th May, 1789. 6. Jane, nat. 22d Feb. 1791. 7. Abigail,nat. March 8, 1799. 8. Martha M., nat. 14th June 104. 9. Phebe Ann, nat. July 29, 1807. 10. Rachel E., nat. 14th Dec. 1810.
Family arms. Gules, a lion rampant or. Creat. Two eagles' necks and heads conjoined.
---
The following image is from Old Parochial Registers for Lanark, 1646-1855 which contains "Baptisms, 1820-1854 Marriages, 1820-1855 Birth Index, 1820-1855 Neglected Birth Entries, 1868" from FHL BRITISH Film 1066594 Items 1-2

Possible transcription:
Wallace // James lawful [son] to Jo: [John?] Wallace / borne the 9th December and baptised 16th [1674] the present witnesses George Wallace [and] Robert Mc...e
From this, we think that James Wallace was born 9 Dec 1674 in Lanark, Scotland, as a son of John Wallace. From another LDS record, we find that a John Wallace married Agnes Smith on 17 Jun 1671 in Lanark, Scotland. We think the following image is that record.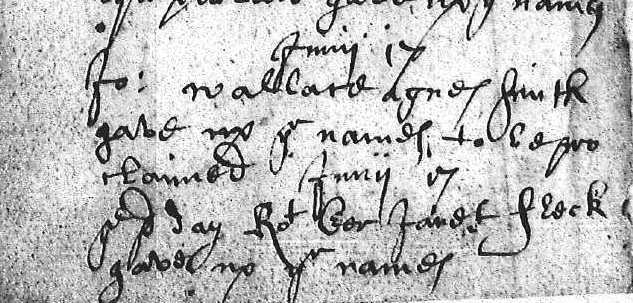 It is possible that this John and Agnes (Smith) Wallace are the parents of our James Wallace of Scotland and New England.