John Wesley Wilhoite: Ancestry and Descendants
John Wesley Wilhoite was a son of Aaron Wilhoit and Mary Yager according to A. L. Keith in his "Genealogies of Virginia Families, Installment 1" which was published in The William and Mary College Quarterly [1929, page 619].
Aaron Wilhoit was a son of John Wilhoit and his first wife, __ Smith, according to The Germanna Record, Number 13, published by the Memorial Foundation of the Germanna Colonies in Virginia [2nd printing, 1982; see page 60]
The same booklet identifies John Wilhoit as a son of Adam Wilhoit and Catherine Broyles [page 51]; and Adam Wilhoit as a son of Michael Wilheit, the immigrant [page 49].
The descendants of John Wesley Wilhoite are listed below as far as we have been able to identify them. All entries are docuemented so that you may see where we obtained the information. Additions and corrections are welcome.
1 John Wesley Wilhoite, b. 12 May 1803 in Madison Co VA, d. 15 Jan 1863 in Oldham Co KY [1]
+ Sarah Williams, md. 16 Sep 1824 in Oldham Co KY [1]
2 John Lafayette Wilhoit, b. 1 Jul 1825, d. 24 Mar 1843 [3]
2 James Williams Wilhoit, b. 28 Nov 1827 [1]
+ Mary Elizabeth Goodwin, md. 6 Feb 1855 in Oldham Co KY [1]
3 Arla Jane "Jennie" Wilhoite, b. 3 May 1858, d. 17 Mar 1920 [DC]
+ Hugh Lynn [wife's DC]
3 Sallie W. Wilhoite, b. 4 Oct 1861 in McLean Co KY, d. 18 Aug 1915 [DC]
+ Mr. Vance [wife's DC]
3 John H. Wilhoite, b. abt 1864 [1870 McLean Co KY census]
3 Hattie Wilhoite, b. abt 1867 [1870 McLean Co KY census]
3 C. H. Wilhoite (daughter), b. abt 1871 [1880 McLean Co KY census]
3 T. E. Wilhoite (daughter), b. abt 1873 [1880 McLean Co KY census]
+ Susan Winer, md. 24 Jan 1837 in Oldham County [2]
2 Louisa Jane Wilhoite, b. 12 Jan 1838 in Oldham Co KY [1]
+ Egbertus Oost, md. 21 May 1860 in Oldham Co KY [1]
2 Sarah Elizabeth Wilhoite, b. 19 Jan 1840 in Oldham Co KY [1]
2 William Andrew Wilhoite, b. 4 May 1842 in Oldham Co KY [1]
+ Matilda Flint, md 23 Dec 1869 in Oldham Co KY [1]
3 James Wilhoite, b. Jan 1872 in KY [1900 Oldham Co KY census]
3 Laura M. Wilhoyte, b. 30 Jul 1874, d. 10 Oct 1925 [DC]
+ Mr. Davis [wife's DC]
3 William Roy Wilhoite, b. 17 Jun 1887 [WWI Registration]
+ Jewell Netherton [DC of James Robert Wilhoyte], b. 13 Nov 1886, [SSDI] d. 25 Apr 1975 [KDI]
4 Ernest W. Wilhoite, b. abt 1910 [1920 Oldham Co KY census]
4 James Robert Wilhoyte, b. 6 Oct 1916, d. 31 Aug 1926 [DC]
4 Annie L. Wilhoite, b. abt 1919 [1920 Oldham Co KY census]
4 Mary E. Wilhoite, b. 26 May 1925 [3]
2 Robert Franklin Wilhoite, b. 10 Sep 1846 in Oldham Co KY [1]
2 Martha Wilhoite, b. 23 Apr 1849, d. 10 Jul 1920 [DC]
+ Robert King, md. 3 Oct 1867 in Oldham Co KY [1]
2 Margaret Ann Wilhoite, b. abt 1851 [1850 census]
+ Arnett Hardin, md. 25 Nov 1875 in Oldham Co KY [1]
Links
[1] http://www.kykinfolk.com/oldham/marriages/1851-presentw.html
[2] http://www.kykinfolk.com/oldham/marriages/1823-1851w.html
[3] http://www.kykinfolk.com/oldham/births/1921-1930births/birthsw.html
Census Records
1850 Federal Census: Kentucky, Oldham County, Division 1, page 141A
household 236/246
Wesley Wilhite - 45 M, farmer, born KY
Susan Wilhite - 35 F, born KY
Louisa Wilhite - 13 F, born KY
Sarah Wilhite - 11 F, born KY
W. A. Wilhite - 9 M, born KY
Rob. F. Wilhite - 4 M, born KY
Martha Wilhite - 2 F, born KY
James Wilhite - 21 M, farmer, born KY
1860 Federal Census: Kentucky, Oldham County, page 113
household 823/817
Wesley Wilhite - 59 M, farmer, born VA
Susan Wilhite - 45 F, born KY
Elizabeth Wilhite - 20 F, born KY
William Wilhite - 18 M, farmer, born KY
Robert Wilhite - 15 M, laborer, born KY
Martha Wilhite - 11 F, born KY
Margaret Wilhite - 9 F, born KY
1870 Federal Census: Kentucky, Oldham County, Brownsboro, page 26
household 208/208
Wilhoite, Susan - 65 F W, keeping house, born KY
Wilhoite, Margaret - 17 F W, born KY
Wilhoite, Robert - 24 M W, working farm, born KY
household 209/209
Wilhoite, William - 28 M W, farmer, born KY
Wilhoite, Matilda A. - 28 F W, keeping house, born KY
Wilhoite, Albert M. - 14 M W, born KY
1870 Federal Census: Kentucky, McLean County, Calhoun, page 192A
household 111/112
Wilhoite, James W. - 42 M W, farmer, born KY
Wilhoite, Mary E. - 37 F W, keeping house, born KY
Wilhoite, Jennie - 12 F W, born KY
Wilhoite, Sallie W. - 9 F W, born KY
Wilhoite, John H. - 6 M W, born KY
Wilhoite, Hattie - 3 F W, born KY
1880 Federal Census: Kentucky, McLean County, Calhoun, page 292C
no household given
Willhoite, J. W. - W M 52, head, farmer, born KY, father born VA, mother born KY
Willhoite, Mary E. - W F 47, wife, keeping house, born KY, father born NY, mother born VA
Willhoite, A. J. - W F 22, daughter, born KY
Willhoite, S. W. - W F 18, daughter, born KY
Willhoite, J. H. - W M 16, son, born KY
Willhoite, H. T. - W F 13, daughter, born KY
Willhoite, C. H. - W F 9, daughter, born KY
Willhoite, T. E. - W F 7, daughter, born KY
Goodwin, M. E. - W F 10, niece, at school, born KY
1880 Federal Census: Kentucky, Oldham County, Brownsboro, district 153, page 57C
household 133/133
Wilhoite, Susan - W F 65, keeping house, born KY
Hardin, Arnett - W M 31, son-in-law, farmer, born KY
Hardin, Margaret A. - W F 27, daughter, housekeeper, born KY
Davis, Wm A. - W M 7, boarder, houseboy, born KY
1880 Federal Census: Kentucky, Oldham County, Brownsboro, district 153, page 57D
household 138/138
Wilhoite, Wm A. - W M 38, farmer, born KY, parents born KY
Wilhoite, Matilie - W F 28, wife, keeping house, born KY, parents born KY
Wilhoite, James C. - W M 9, son, at home, born KY
Wilhoite, Laura M. - W F 5, daughter, at home, born KY
1900 Federal Census: Kentucky, Oldham, Brownsboro, page 71B
household 152/152
Wilhite, William A. - head, W M 58, born May 1842 in KY, widower, parents born KY, farmer
Wilhite, James S. - son, W M 28, born Jan 1872 in KY, widower, parents born KY
Wilhite, Laura M. - daughter, W F 25, born Jul 1874 in KY, parents born KY
Wilhite, William R. - son, W M 12, born Jun 1887 in KY, parents born KY
1910 Federal Census: Kentucky, Oldham County, District 7, page 84A
household 182/182
Wilhite, William A. - head, W M 68, widower, born KY, parents born KY, farmer
King, Martha C. - sister, W F 61, widow, born KY, parents born KY
1920 Federal Census: Kentucky, Oldham County, Buckner, page 76A
household 76/79
Wilhite, William R. - head, M W 32 md, born KY, parents born KY, farmer
Wilhite, Jewell D. - wife, F W 33 md, born KY, parents born KY
Wilhite, Ernest W. - son, M W 10, born KY
Wilhite, James R. - son, M W 4 1/12, born KY
Wilhite, Annie L. - daughter, F W 2 8/12, born KY
Wilhite, William A. - father, M W 77 widower, born KY, parents born KY
1930 Federal Census: Kentucky, Oldham County, Crestwood, page 172A
household 204/213
Wilhoyte, Roy W. - head, M W 43, marred at 21, born KY, parents born KY, farmer
Wilhoyte, Jewell N. - wife, F W 43, married at 21, born KY, parents born KY
Wilhoyte, Ernest W. - son, M W 21, single, born KY, signal helper on railroad
Wilhoyte, Anna L. - daughter, F W 12, born KY
Wilhoyte, Mary E. - daughter, F W 4 11/12, born KY
Death Certificates
Arla Jane Lynn -
Back to Top of Page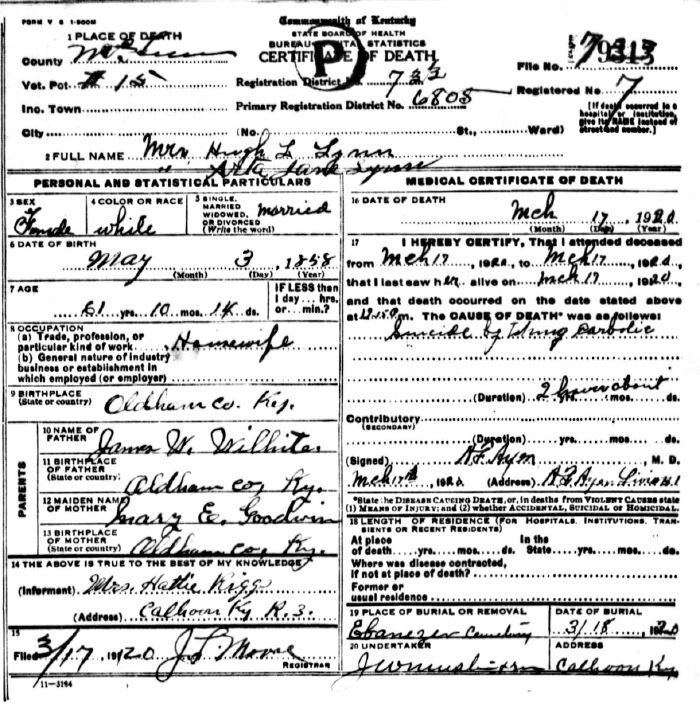 James Robert Wilhoyte -
Back to Top of Page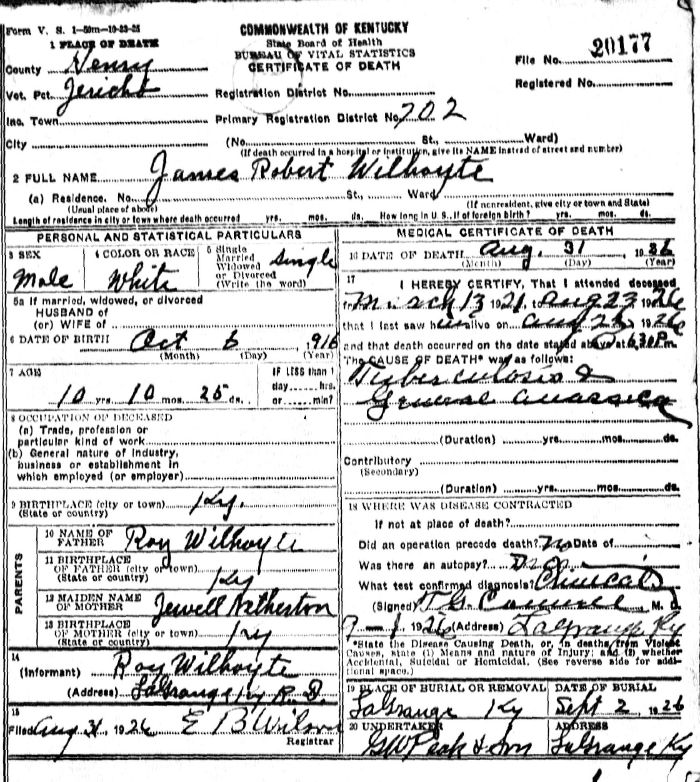 Laura M. Davis -
Back to Top of Page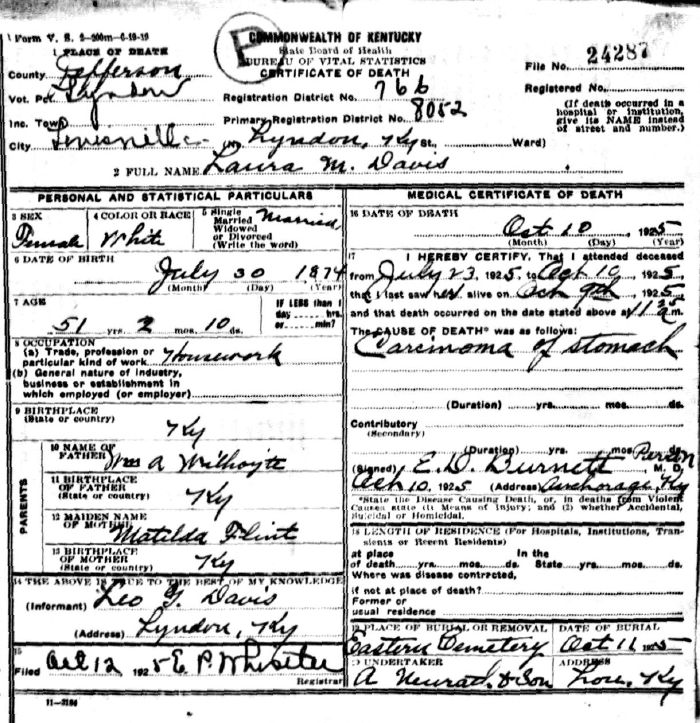 Martha C. King -
Back to Top of Page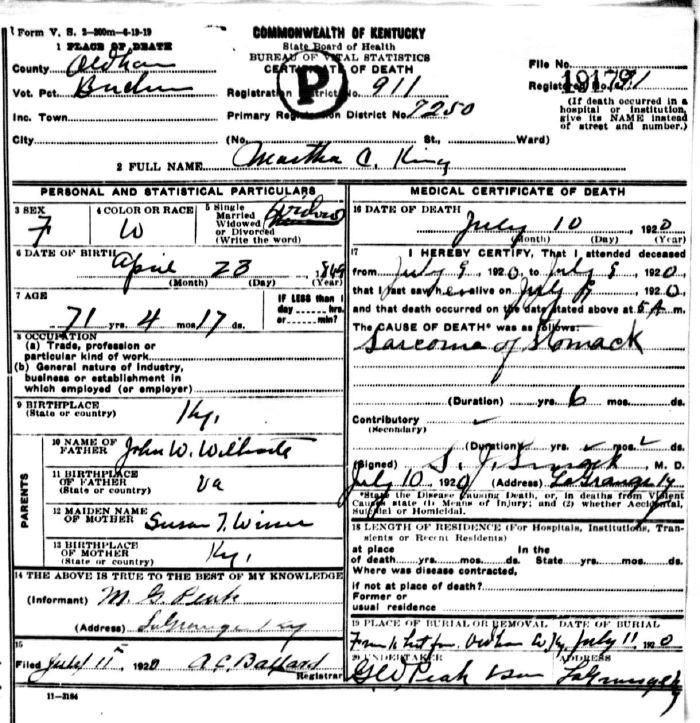 Sallie Vance -
Back to Top of Page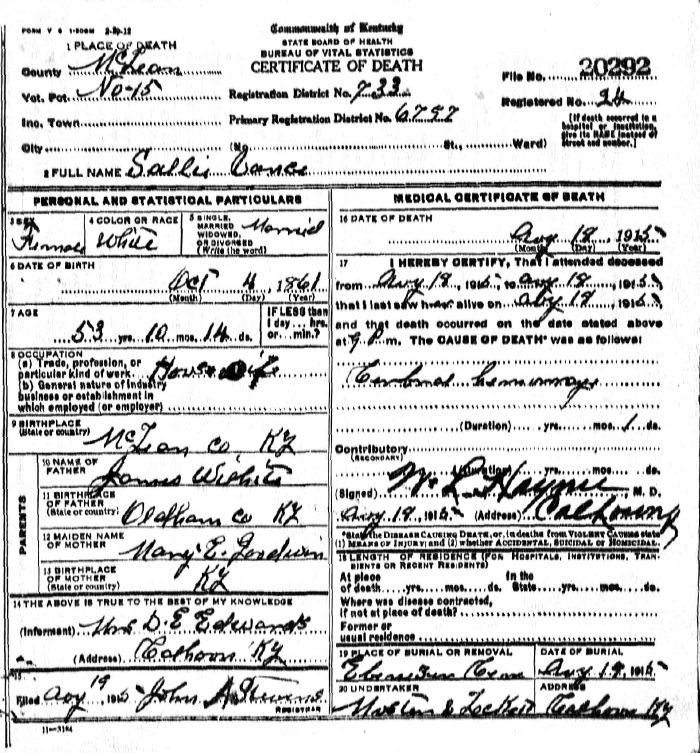 World War I Registrations