John Petree to Charles Petree, 1870
In 1870, when John Petree was about 60 years old, he sold two tracts of land in the Lick Skillet District to his son, Charles H. Petree, for $150. It is curious that these two tracts did not adjoin one another, as you can see in the chart below. The two plots transferred are marked with an x. Each of the plots on this chart are forty acres. A forty acre tract that is square will be 1,320 feet or one-fourth mile on a side. Thus the closest corners of these two tracts were at least a half mile apart.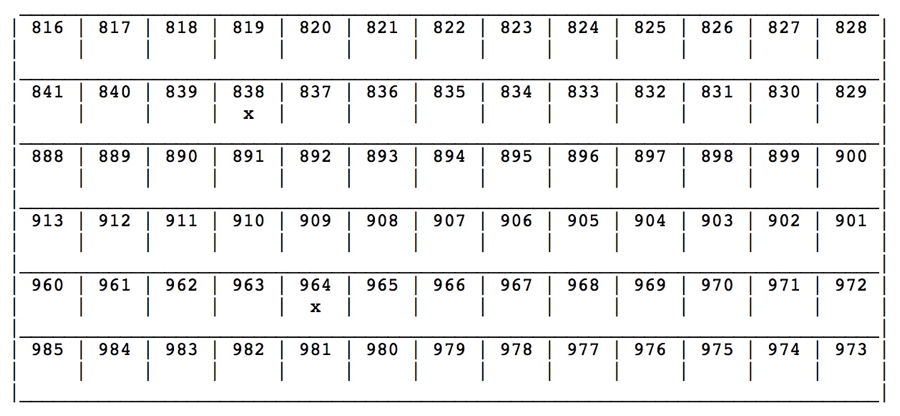 Here is the transcription of the deed.
---
Cherokee County, Georgia Deed Book T, Page 57
John Petree to Charles Petree
No. 838-964-15-2
State of Georgia, Cherokee County
This indenture made this the 19th February in the year of our Lord Eighteen hundred and Seventy between John Petree of the state and county aforesaid of the one part and Charles H. Petree of the same place of the other part. Witnesseth that the said John Petree for and in consideration of the sum of One hundred and fifty Dollars to him in hand paid at and before the sealing and delivery of these presents the receipt whereof is hereby acknowledged hath granted, bargained, sold, and conveyed and doth by these presents grant, bargain, sell, and convey unto the said Charles H. Petree, his heirs and assigns all the parcel of land situate lying and being in the __ of Cherokee on Mill Creek in the fifteenth District and second Section of said county containing eighty acres more or less, known and distinguished by Nos. (838) Eight hundred and Thirty eight and (964) Nine hundred and Sixty four to have and to hold said tracts or parcel of land unto him the said Charles H. Petree, his heirs and assigns together with all and singular the rights, members, and appurtenances thereof to his and their own proper use benefit and ... forever in fee simple. And the said John Petree for himself, his heirs, Executors and Administrators the said bargained premises unto the said Charles Petree his heirs and assigns will warrant and defend the right and title thereof against themselves and against the claim of all other persons whatever. In witness whereof the said John Petree hath hereto set his hand and affixed his seal. The day and year above written. Signed, sealed and delivered in presence of
Josiah Spears
Wm. Carmichael J.P.
(signed) John Petree
50 Revenue affixed on Deed
Recorded February 22nd, 1870.
O.W. Putnam, clerk