John Petree of Cherokee County GA
This essay deals with John Petree of Cherokee County GA, and his children. We are reasonably certain that John Petree was the first Petree to come to Cherokee County GA, and thus most Petrees today in the central Georgia area may be decended from him.
John Petree was the son of Johnnes and Barbara (Butts) Petry of North Carolina. He was one of eight children, and the only one to come to Cherokee County GA.
Much of what we know about his family has been gathered from newspaper accounts and public records: deeds, court records, censuses, etc. These dry facts usually only hint at the fullness of their lives. We can know what land they bought and sold and where they were at the time. We can get a hint of who they were from newspaper accounts, but we really can't get to know them well.
The information developed here comes from a variety of sources and researchers. Three ladies who have done considerable research on Petrees are Aleta Buice who is a granddaughter of Houston Cleo Petree and a descendant of John and Mary Petree through their son Charles Harrison Petree, Lois Fraley Hener (see her website here for details), and Jo Martin.
Additional research in Cherokee County has been done by Richard "Pete" Petree and his son, Richard "Dick" Petree. Pete is the grandson of Elbert Twiggs Petree, John and Mary's youngest child.
According to the written record of Houston Cleo Petree, a great-grandson of John Petree by his son Charles Harrison Petree, "The story is that John Petree met and married Amanda Martin in North Carolina and that they lived there until Amanda died, when their second child was six weeks old. After that, John took his two babies and moved to Roswell, Georgia, where he met and married Mary T. Smith, a young lady of seventeen years of age, and of English descent.
"John Petree had eleven children by his second wife and they lived and prospered to a mature age and both died in the year 1885, within five days of each other. Mary died first and John dropped dead at the well while watering his two horses. They were both short and plump in stature and were both of the Methodist faith. Many of their children married neighborhood boys and girls in their community and many of their descendents still live within a small radius of where they were reared."
According to the obituary of John Petree written by W.H. Speer on 2 Oct 1885 in the Cherokee Advance, a local newspaper, "John Petree was born February 1810, near Salem, N.C., and was married to Amanda Martin Feb. 15, 1829, who lived only three years after their marriage. He was married to his late wife, Mary T. Smith, Nov. 11, 1832 in Lincolnton, N.C. She died on the 10th and he on the 15th of September, 1885. He was, at the time of his death, in his 76th year, and had lived 41 years in Georgia, most of the time in Cherokee county. He was a mechanic, and known for the excellence of his work. He was most provident. No tax on himself or purse was too great if it was necessary for the comfort of his family. He professed religion at a camp meeting in Spartanburg, S.C., Sept. 1837, and joined the Methodist church. He lived a consistent, though not a demonstrative, member for 48 years. He was in his usual health on the day of his death, busily engaged until late in the afternoon. About sunset he went to water his mule, drew his water, carried it a few steps from the well, and fell and died without a struggle. He had with him that friend and Savior, Jesus, who said: "Be ye also ready, for ye know not when the son of man cometh."
Mr. Speer also wrote Mary Petree's obituary in the same issue. In it he wrote, "Mrs. Mary T. Petree, nee Smith, wife of the late John Petree, was born December 7, 1815, in Lincoln county, N.C., and was married to Mr. John Petree Nov. 11, 1832. She died Sept. 10, 1885, preceeding her husband only five days. She was almost 70 years old at the time of her death. She was of a gentle, sweet, amiable disposition, kind to those of her own household and to her neighbor. She professed saving faith in Christ at a camp meeting in Spartanburg, S.C., Sept. 1839, and united with the Methodist church, and was a devoted member for 46 years. Her great effort was to be a christian in all life's offices. To be approved as a christian wife, mother, neighbor, friend, and a child of the heavenly Father was her great desire and aim. She was sorely afflicted for almost a year before her death, but was never heard to complain. She spoke of her readiness and willingness to depart, and when, after long suffering and patient waiting the Master came for her, she passed away sweetly and triumphantly, leaving many dear ones to grieve their loss. May they grant her dying request by meeting their mother and loved one in heaven!"
Since Mr. Speer was closer to the scene, and probably knew the Petrees well, we tend to give more weight to his facts where they differ from those of Houston Cleo Petree. However, this is only our opinion.
From these two accounts we learn that John Petree was born in February 1810 near Salem NC. He married Amanda Martin while still in North Carolina. According to Lois Fraley Hener, John and Amanda were married on 15 Feb 1829. They had two children, Susan Emaline (b. 13 Nov 1830, d. 20 Sep 1890) and Lawson H. (b. 11 Apr 1832, d. 6 May 1904). Since Houston Cleo Petree indicated that Amanda died when her second child was six weeks old, we may infer that Amanda died sometime in May 1832.
John had two children to care for and he didn't take long to find another bride.
He married Mary Thompson Smith on 11 Nov 1832 in Lincolnton NC according to his obituary. She would have been almost 17 at the time. They had eleven children: Wilburn T. (b. 29 Sep 1834, d. 4 Sep 1860), Julia Anne (b. 9 Dec 1836), Francis Caroline (b. 9 Mar 1839), Charles Harrison (b. 3 Nov 1841, d. 13 Apr 1915), Mary Jane (b. 28 Jan 1844), Anna Clementine (b. 11 Sep 1846), Russell Reyno (b. 28 Jan 1850, d. 25 Dec 1925), Sarah Florence (b. 28 Dec 1852, d. 20 Jun 1864), Henry King (b. 28 Jan 1856, d. 8 Feb 1917), Georgia Ann Albertine (b. 30 Jun 1859, d. 12 Jul 1859), and Elbert Twiggs (b. 20 Aug 1862).
As you can see there was quite an age span between the first and last of John Petree's children. His eldest, Susan Emaline, was nearly 30 years old when the youngest, Elbert, was born. She had married William Fenn on 7 Oct 1847 in Cherokee County. They had a son Thomas who died young (b. 1850, d. 1864).
Lawson Petree married Rosanna Dobbs on 27 Dec 1849 in Cherokee County. Rosanna (b. 2 Apr 1832, d. 28 Apr 1920) was the daughter of Balaam Dobbs, the granddaughter of Lott Dobbs. Lawson and Rosanna had five children: Mary Elizabeth (b. 26 Dec 1850), Angelina P. (b. abt 1858), Georgia (b. 6 Sep 1860) and Minnie (b. 14 Jun 1869), and Jennie.
The children Mary Elizabeth and Angelina have only recently been located. They are listed in the 1860 Cherokee County census with Lawson and Rosanna. Mary Elizabeth married Joseph Trippe on 15 Dec 1866 according to Cherokee County marriage records. No other information has been found about Angelina as yet.
Wilburn T. Petree, the first of John and Mary's children, died in Denver, Colorado on 4 Sep 1860. He was there while on his way west to prospect for gold. His dying message, as recorded on his wife's tombstone, was "Tell Father to take care of my wife and children."
His father, John Petree did just that. Evidence that he quickly began the process can be found in Cherokee County Ordinary Court records. He applied for temporary administration of his son's estate in January 1861, and obtained permanent administration in April of that year.
There is considerable confusion about Wilburn's name. On the the court records [Cherokee County, Georgia Court Records, Book B, Pages 191-2, 352-3] he is called William. However, the memorial to him on his wife's tombstone calls him Wilburn. He left a wife, Nancy Eveline (Edwards) Petree (b. 17 Apr 1837, d. 16 Jan 1914), and three children: Julie Ann (b. about 1860), John Cleveland (b. Aug 1856), and Villa Rica, (Villy) who died at the age of nine years (b. 17 Jan 1858, d. 8 Jun 1867). Nancy later married Robert Heuie McMillian on 8 Apr 1889. It appears that John Petree raised his grandchildren even after Nancy remarried.
According to Houston Cleo Petree, both Julia and John became school teachers. Julia married Augustus Lovely Rogers and they had six children: Maggie Mae, John William, Louise, Ruth, and twin boys, Robert Carl and James Clarence. A picture of the Augustus Lovely Rogers family may be seen on page 128 of the Cherokee County Heritage Book available though the R.T. Jones Library in Canton GA.
According to the 1900 GA census, John Cleveland Petree had a wife named Elizabeth and they had three children: Wilburn H. (b. Jul 1885), Fannie J. (b. Dec 1886), and Isham G. (born Nov 1892).
Julia Anne Petree, John Petree's fourth child, married Robert M.C. Braselton in October 1854 in Cherokee County. By 1870 they had moved to Floyd County GA. Their known children include Francis, Eugenia, and Charles, all born in Cherokee County. Robert Braselton was born 10 Dec 1833, the eighth child of Amos and Elizabeth (McMullen) Braselton. His grandfather Jacob was from Wales.
John Petree's fifth child, Francis Caroline Petree married John K. Trippe on 10 Mar 1859 in Cherokee County. They had one child, Laura Ann, who died before her first birthday.
Charles Harrison Petree, John's sixth child, married Margaret Elizabeth Braselton on 17 Jan 1867 in Cherokee County. She was the daughter of William Green Braselton, and the niece of Robert Braselton, Julia Anne Petree's husband. Charles and Margaret had six children: Wilburn Braselton (b. 28 Oct 1867, d. 8 Mar 1911), Tallulah Belle (b. 1 Jun 1870, d. 1956), Mary Perdilla (b. 21 May 1872), Annetta Jane (b. 22 May 1875, d. 7 May 1943), Minnie Maud (b. 4 Jan 1880, d. 14 Nov 1958) and John William (b. 9 Jan 1882).
Charles H. Petree had enlisted in the Confederate Army in March of 1862, at the age of 20 years, 5 months, from Woodstock, Cherokee County, GA. He was assigned to "C" Company, "Phillips Legion," of the Georgia Cavalry. Charles H. Petree participated in many engagements during his tenure of service and came through unscathed, though he had two horses shot from under him. He was with General Jos. E. Johnston's Army at Greensboro NC when surrender came, 26 Apr 1865.
Charles, his wife Margaret, and the children Annie, Maud, and John, were living in Cobb County GA in 1900 according to the census.
Mary Jane Petree, John's next, married Peter Isham Edwards. It's not certain if Peter was related to Nancy Eveline Edwards Petree or not.
Anna Clementine Petree was the next offspring of John and Mary Petree. She married James D. Braselton on 8 May 1870 in Cherokee County. James was Robert's brother and Margaret's uncle. We have no record of any children by Anna and James.
Next came Russell Reyno Petree who married Caroline J. Dupree (1850-1902) on 2 Feb 1873 in Cherokee County. Russell and Caroline had eleven children. From oldest to youngest, they were Clementine, John B. (b. 1875, d. 1935), Alexander Stephen (b. 28 Mar 1878, d. 23 Oct 1879), Charles Harrison (b. 8 Dec 1879, d. 21 Aug 1949), Pearl, Lillian (b. 4 Sep 1888, d. 14 Oct 1891), Russell Reyno, Jr. (b. 7 Apr 1893, d. 13 Jun 1984), Sam, Frank, Agnes, and Eugene.
Sarah Florence was the next child of John and Mary Petree. She lived from 28 Dec 1852 until 20 Jun 1864.
Next came Henry King Petree who married Lucretia J. Gober (b. 6 Apr 1866, d. 25 Apr 1944). They had five children: Alice (b. Nov 1886), Bertha (b. 9 Aug 1892, d. 1 Sep 1892), Margaret Mae (b. Aug 1895), William Henderson (b. Jul 1899, d. 7 Apr 1980), and Tallulah Pearl (b. 1 Jun 1903, d. 16 Dec 1999).
Georgia Ann Albertine Petree was born on 30 Jun 1859. She died less than two weeks later on 12 Jul 1859. At her birth, John Petree was 49 and Mary was 43.
Three years later John and Mary had their last child, Elbert Twiggs Petree, on 20 Aug 1862. Elbert married Delphia Elizabeth Roach, daughter of Alfred Richard and Biddy (Teasley) Roach. They married on 6 May 1883. Their four children were Henry Cleveland (b. Jun 1885), John N. (b. Mar 1887), William Lucius (b. 29 Jun 1891, d. 25 Apr 1947), and Elbert Truman (b. Sep 1894).
John Petree and his family appear to have lived in the Lick Skillet Militia District part of Cherokee County much of their lives. The Lick Skillet Militia District is located in the southeast corner of Cherokee County. The Little River forms the southern boundary of the district to the east and then passes through the western section. The main highway in this district is Highway 92 which passes through the southwestern part of it.
The part that most interests us is located south of Mill Creek and centered in the area from just north of North Arnold Mill Road to just south of Arnold Mill Road. According to a modern Cherokee County map, to reach this area take Trickum Road north from Highway 92 to Barnes Road on the right. Follow Barnes Road to where it meets Arnold Mill Road. If you continue straight you will be on North Arnold Mill Road; if you turn right you will be on Arnold Mill Road. Following either of these roads will bring you back to the other as they make a loop through this area.
Along with much of the rest of the county, the Lick Skillet district is divided into 40 acre plots. Working from an 1895 map of Cherokee County, the plots are numbered back and forth, east and west. The section of this district that we are interested in is laid out the way you see below.
While the roadways on the 1895 map do not seem to match up exactly with the modern map, it would seem that North Arnold Road should pass from plot 841 through 840, 839, 838, and then pass out of 837 into 821. From there it continues through 822-826 and then passes into 830. It appears to rejoin Arnold Mill Road in plot 829. This should give some idea of the location of these plots.
The reason we are interested in this area is that John Petree and his family owned property in this area at one time or another, and the deed transfers identify the property according to the plot numbers.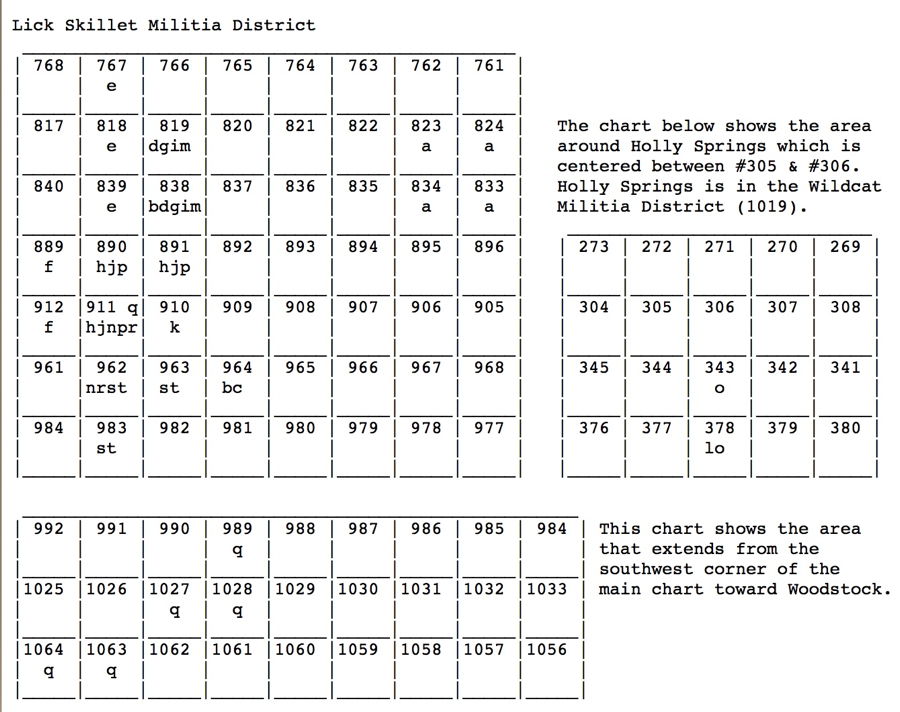 Sources
Deed Book U, Page 11 (Josiah Shears to John Petree - 25 Dec 1862) and Deed Book T, Pages 416-417 (John Petree to Levi F. Burtz - 16 Feb 1863)
Deed Book T, Page 57 (John Petree to Charles Petree - 19 Feb 1870)
Deed Book MM, Page 292 (Charles H. Petree to E. N. Dobbs - 4 Nov 1874)
Deed Book Y, Page 508 (L.H. Petree et al to R.R. Petree - Jan 1886)
Deed Book Y, Page 34 (H.K. Petree to John R. Fenn - 5 Dec. 1886)
Deed Book X, Page 562 (H.W. Kewp to H.K. Petree - 17 Dec 1886)
Deed Book Y, Page 106 (R. R. Petree to E. T. Petree - 10 Jan 1888)
Deed Book Y, Pages 438-39 (E.T. Petree to R.R. & C.H. Petree - 4 Feb 1889) and Deed Book Y, Pages 437-38 (E.T. Petree to F.C. Trippe, L.H. Petree, R.R. & C.H. Petree - 5 Feb 1889)
Deed Book Y, Pages 574-576 (Elbert T. Petree to Equitable Mortgage Co. of Kansas City, Missouri - 15 Jun 1889)
Deed Book AA, Pages 472-473 (E.T. Petree by Sheriff to R.R. Petree - 5 Jan 1890)
Deed Book Z, Page 563 (E. T. Petree to Russell Petree - 27 Mar 1891)
Deed Book Z, Page 638 (Alfred Roach to D.E. Petree - 16 Jun 1891)
Deed Book CC, Pages 330-331 (E.T. Petree by Sheriff to George C. Preston - 2 Jun 1896)
Deed Book DD, Pages 232-233 (L. H. Petree to Genie L Rainwater - 28 Sep 1897)
Deed Book EE, Page 223 (Delphia E. Petree to Wm Delay - 24 Dec 1897)
Deed Book FF, Page 71 (R. R. Petree to Sarepta McVay - 5 Jan 1901)
Deed Book KK, Page 474 (C. J. Petree to A. L. Barrett - 12 Mar 1901)
Deed Book GG, Pages 301-302 (Will P. Rainwater to Mrs. L.H. Petree - 12 May 1904)
Deed Book GG, Pages 424-425 (J.N. Barnes, admin. for L.H. Petree to Rhoda Petree - 6 Sep 1904)
Deed Book HH, Pages 111-112 (Rhoda Petree to J.B. Mosteller - 1 Jan 1906)
Below are more detailed descriptions of these deed transactions, together with other information about the Petree family.
The first record that we have of John Petree occurred on 25 Dec 1862 when Josiah Spears sold #823, 824, 833, and 834 to John Petree for $1070 [Deed Deed Book U, Page 11]. These four tracts form a square a half-mile on a side. John Petree sold the four tracts to Levi F. Burtz for $1200 on 16 Feb 1863 [Deed Book T, Pages 416-417]. For some reason, this second transaction was not recorded until 22 Feb 1875. Perhaps Burtz was planning to sell it himself at that time and needed the earlier deed recorded for the record. Since John didn't hold on to this land long enough to do anything with it, we can speculate that he bought it with an eye toward reselling it for a profit.
On 19 Feb 1870 John Petree sold #838 and 964 to his son, Charles H. Petree, for $150 [Deed Book T, Page 57]. It is curious that these two tracts did not adjoin one another, as you can see in the chart below. Each of the plots on this chart are forty acres. A forty acre tract that is square will be 1,320 feet or one-fourth mile on a side. Thus the closest corners of these two tracts were at least a half mile apart. This is also the first indication that we have of property that John Petree owned (other than the 4 tracts mentioned above).
Charles H. Petree sold tract #964 to E. N. Dobbs for $150 on 4 Nov 1874 [Deed Book MM, Page 292]. However, for some reason the deed transfer was not recorded until 15 Jan 1917, some 42 years later. In this deed he is named Charles W. Petree, but there seems little doubt that this is really Charles Harrison Petree.
From The Cherokee Advance, 5 May 1881, Cherokee County, Georgia comes a story about some excitment in the Petree household. It is titled, "A Bold Burglar." Here is the story as it appears in the newspaper.
"About a month ago Mr. John Petre, who lives near Woodstock in this county, employed a young man by the name of Ellis to work on his farm. Ellis was a stranger in the neighborhood, and claiming to be from Gwinnett county. Mr. Ellis, however, conducted himself well since his arrival until last week, when he became guilty of one of the boldest robberies that has been perpetrated in this county for several years. The facts are as follows:
"On last Sunday week Mr. Petre said his family went to church and tried to persuade the yound man to accompany them but he refused, and they finally left him to "take care" of the house while they were gone to church, and it is supposed that Ellis spent that day in searching through the premises for valuables. Mr. Petre says this must have been the case, for on Tuesday night following, as they finished supper Ellis arose from the table and went from the kitchen to the dwelling, leaving the family in the kitchen and before they were aware of "what was up" Ellis had picked a trunk lock and extracted fifteen dollars from the trunk -- had "found" ten dollars more in another depository -- had oppropriated a new suit of clothes belonging to a son of Mr. Petre, worth twenty-five dollars, and also an overcoat worth fifteen dollars, and had hid out.
"Diligent search was made for the young man, and next morning Mr. Petre came to Canton in search of his man, and sent his two sons to Marietta to telegraph up and down the railroad for him. They boarded the narrow-guage for Marietta, but had not gone far when some one waived the train down, and lo and behold it was Mr. Ellis. He was at once arrested and brought back to where he had committed the burglary, and was tried before Justices George W. Brooks and Joseph Carmichael, and convicted accordingly, and on the following morning Mr. Ellis came up to Canton, accompanied by John C. Petre and E. T. Petre, to engage rooms at the Spears & Kitchen hotel until the August term of the Superior court of Cherokee county, after which time he will most likely get a permanent job on the Marietta & North Ga. railroad for at least ten years. Ellis is a fine looking young man about twenty-five years old, and is said to be intelligent, but he put it to a bad use this time."
This story was also described on page 27 of the book, Georgia's Woodstock: A Centennial Tribute 1897-1997, by Felicia S. Whitman.
The John C. Petre mentioned is probably John Cleveland, his grandson. It is interesting to note that John Cleveland was about six years older than his Uncle Elbert Twiggs Petree. When this story was written Elbert would have been about 19, John about 25.
From the Cherokee County Probate Court Records - Book D, pages 367-369, Minutes of Cherokee Court of Ordinary October Term 1885, it appears that when John Petree died in 1885 he had no will. According to the record, his heirs petitioned the court to allow them to distribute his estate among themselves. The names of his heirs are listed several times in the court document.
They include the following: Susan E. Finn and Lawson H. Petree, children of John Petree by his first wife, Amanda Martin Petree; Nancy Edwards Petree, wife of William T. Petree, Julie Ann Rogers and John Cleveland Petree, children of William T. Petree (eldest son of John and Mary Smith Petree, also called Wilburn); Julia Anne Braselton, Francis Caroline Trippe, Charles Harrison Petree, Mary Jane Edwards, Anna Clementine Braselton, Russel Reyno Petree, Henry King Petree, and Elbert Twiggs Petree, all sons and daughters of John and Mary Smith Petree.
Two other daughters, Sarah Florence Petree and Georgia Ann Albertine Petree preceded thier parents in death.
Regretably, the petition does not identify the property held by John Petree.
We know a bit about the whereabouts of some of the Petree children at the time of John and Mary's deaths. Anna Clementine and her husband James Braselton gave a power of attorney to Russell on 14 Oct 1885 that allowed him to act for Annie in regard to her parents' estate. In that document, found in Book Y, Pages 541-2, the Braseltons are identified as being in Butte County, CA while Russell is shown in Cobb County GA.
Earlier, on 21 Sep 1885, as recorded in Book Y, Pages 542-3, Julia Anne Braselton who was living in Selma, Alabama gave her power of attorney to Lawson H. Petree for the same purpose; and on 2 Oct 1885 (Book Y, Page 543) Julia Ann Rogers, Wilburn's daughter, who was living in Milton County GA gave her power of attorney to her brother John Cleveland Petree. He was still in Cherokee County.
In Jan 1886, 3 months after John and Mary Petree's deaths, the heirs sold two tracts of land (#819 and 838) to their brother Russell Petree for $525 [Deed Book Y, Page 508]. It is noteworthy that the #838 tract was one of the two sold by John Petree to his son Charles H. Petree in 1870. No record has been found where Charles returned it to his father, so we are unsure why all of the heirs were selling it at this time.
The heirs were named as Lawson Petree, Susan E. Finn, Julia A. Braselton, F. C. Trippe, C. H. Petree, M. J. Edwards, A. C. Braselton, H. K. Petree and E. T. Petree heirs of John Petree, and N. E. Petree, wife of W. T. Petree heir of John Petree, and her children J. C. Petree and Julia A. Rogers.
Since all of the other heirs were selling this land to Russell, this may have been part or all of the homestead of John and Mary Petree.
On 5 Dec 1886, Henry King Petree sold #767, 818, and 839 to John R. Fenn for $1500 [Deed Book Y, Page 34]. As you can see from the diagram, these three tracts are just to the west of the two tracts that the heirs sold to Russell in January 1886. Evidence has not been found to show where Henry got this land; possibly it was part of the land once owned by John Petree.
Later that month (17 Dec 1886) Henry King Petree used $850 to buy tracts #912 and 889 from H. W. Kewp [Deed Book X, Page 562]. These two tracts lie to the southwest of the three that he sold earlier that month.
Two years later, on 10 Jan 1888, Russell Petree sold #838 and 819 to his brother Elbert Twiggs Petree for $600. This deed was first recorded on 16 Jan 1888 in Deed Book Y, Page 106. It was then re-recorded on 22 Feb 1889 in Deed Book Y, Pages 470-471 along with a a statement that Elbert was using it as security on a loan of $375 obtained from H. B. Wofford.
This is the beginning of several instances where Elbert Twiggs Petree would borrow money using land as security. We are not certain why he made these transactions, but as you will see, he seemed to get in over his head and was unable to meet some of his obligations. There was a considerable amount of mineral mining going on in this area and there is some speculation that Elbert may have been involved in that.
On 4 Feb 1889 Elbert Twiggs Petree secured a loan made to him by Thos. D. Evans in the amount of $327.34 by giving a mortgage on 104 acres of land (tracts #890, 891, and 24 acres of #911) to his brothers Russell and Charles Petree in exchange for their being security on his note to Evans [Deed Book Y, Pages 438-39].
This next deed [Deed Book Y, Pages 437-38] is confusing in language, but it appears to be from Elbert Twiggs Petree to four of his siblings: Francis C. Trippe, Lawson H. Petree, Russell R. Petree, and Charles H. Petree. In it Elbert apparently uses tracts #890, 891, and 24 acres of #911 as collateral for a $1365.99 loan that was payable in one year. Since he had already made a mortage on this land the day before, this appears to be a second mortage.
On 15 Jun 1889, Elbert T. Petree mortgaged lots #838 and 819 to the Equitable Mortgage Company of Kansas City, Missouri as security for a loan of $322.50 which was to be completed paid back by June 1, 1894, five years later [Deed Book Y, Pages 574-576]. According to the deed, this was to be a first lien or mortgage on the property. Provisions were spelled out for how the debt was to be paid, and the procedures to follow should the property have to be sold to repay the debt.
Apparently Francis C. Trippe brought suit against Elbert Twiggs Petree in Cherokee County Superior Court sometime before 5 Jan 1890. On that date land belonging to Elbert Twiggs Petree was sold at public auction to pay the settlement to Francis C. Trippe [Deed Book AA, Pages 472-473]. Russell R. Petree purchased it for $1,225. The land included lots 890 and 891 as well as 24 acres of lot 911. Since this is the same land that Elbert used as collateral in the loan from his siblings, including Francis, on 5 Feb 1889, we can speculate that Elbert had to default on all or part of that loan. Since only Francis sued him, perhaps she was doing so for all of them, or perhaps Elbert had paid everyone but her, or perhaps the rest of them forgave Elbert their part of the loan. We really don't know.
Elbert Petree sold an acre of land to his brother Russell Petree on 27 March 1891 for $150.00 [Deed Book Z, Page 563]. Located in lot #910 in Cherokee County, the acre was earlier deeded to Elbert by J. N. Barnes on 3 November 1885 according to this deed. The deed identifies the acre as being the one with the "Gin-house" on it.
On 16 Jun 1891, Alfred Roach, father of Delphia E. Petree who was Elbert Twiggs Petree's wife at the time, sold tract #378 (except the mineral interest) to his daughter for $300 [Deed Book Z, Page 638]. Tract #378 was located south of Holly Springs. The road to Toonigh passed through this tract.
In 1895 a map of Cherokee County was produced that showed the numbered tracts. On it were printed a number of individuals' names indicating that they either lived at a certain location or had some particular interest in the spot. It is really not clear what the case may be. At any rate, Elbert Twiggs Petree is shown in tract #273 just west of Holly Springs. His father-in-law, Alfred Roach, is shown with a dot near the border between #543 and #306 just outside Holly Springs to the south. Henry King Petree is identified in tract #912. We know from Deed Book X, Page 562 that Henry bought this tract and #889 from H.W. Kewp on 17 Dec 1886 for $850. These tracts are probably next to Trickum Road between Arnold Mill Road and Barnes Road today.
Apparently, by 31 Mar 1896 Elbert had been unable to meet the payments on his mortgage on #838 and 819 to the Equitable Mortgage Company [Deed Book CC, Pages 302-303]. This deed indicates that the company had petitioned the court and had received a judgement against Elbert that required that the land be sold to pay the debt. As a part of this process the company apparently had to deed the land back to Elbert so that the sheriff could possess it for sale.
By order of the Superior Court of Cherokee County, on 2 Jun 1896, the sheriff sold #838 and 819 at public auction to George C. Preston of New York for $400 [Deed Book CC, Pages 330-331]. After court costs of $30.35 were deducted, the balance was applied to the $495.62 still owed by Elbert Petree. This may have been the last of the land owned by Elbert Twiggs Petree in Cherokee County.
According to deed book DD, pages 232-233, Lawson H. Petree gave 29 acres of land to his daughter Genie L. Rainwater on 28 Sep 1897. The land included 13 acres in tract #911 and 16 acres in #962. Apparently her name was Jennie or Jeannie or something similar since she is called Jennie in a later deed.
On 24 Dec 1897, Delphia Elizabeth Petree, wife of Elbert Twiggs Petree, sold 30 acres from tract #378 that lay on the east side of the Marietta & Canton Wagon Road plus 3 acres from the southeast corner of tract #343 to Wm Delay [Deed Book EE, Page 223]. This land was located just south of Holly Springs, and included part of the land sold to Delphia by her father on 16 Jun 1891, five and a half years earlier.
In two transactions on 18 Jan 1899, Delphia E. Petree first purchased a plot of land in the town of Woodstock from W. H. Dean for $183.75 and then sold it to Geo. C. Roberts for $500 [Deed Book DD, Pages 578-579]. The land was located 300 feet from the northwest corner of Church Street near Academy and running north in line with the stone houses 100 feet, then west parallel with Church Street 400 feet, then south 100 feet, then east 400 feet to the starting point.
It is interesting that Delphia is making these transactions in her own name even though the 1900 Georgia census shows that she is still with her husband Elbert and four boys living in the Wildcat District which includes Holly Springs. Her sister Mary M. Roach (b. May 1854) was also living with them. We wonder if she was making them on behalf of her husband, perhaps because of financial difficulties he might have been experiencing, or on her own behalf. It is not clear what the reason might have been at this time. Richard "Pete" Petree indicates that Elbert was later married to a German lady named Guise and lived in Miami FL, but we have no record of when or where this second marriage occurred.
According to the 1900 census, Lawson and Rosanna Petree were living in the Lickskillet Militia District (#1015) which is located in the southeastern corner of Cherokee County east of Woodstock toward the Little River. Both were 68 years old at the time. William Howell, born Sep 1872, age 19, was living with them at the time. He does not appear to be related to the Petrees.
On 5 Jan 1901, Russell Petree sold tracts #890, 891, and 24 acres of 911 to Sareptal(?) McVay for perhaps $1600. The deed [Book FF, Page 71] reads, "sixteen _____ dollars" with as significant space in the middle. This is the same land that Russell bought at public auction when the sheriff sold Elbert's property to pay the debt to Francis Trippe on 5 Jan 1890.
On 12 Mar 1901, Caroline J. Petree, wife of Russell Petree, sold land to A. L. Barrett for $150. This land was located in tracts #989, 1027, 1028, 1063, that part of #1064 east of Rube's Creek, and all of #990 east of a line drawn from the southwest corner to the center of the line on the north side of the lot [Deed Book KK, Page 474]. She retained the mineral rights to this land. This land lay to the east of Woodstock. We don't know how Caroline obtained this land.
According to Lois Fraley Hener's documentation, Lawson H. Petree died on 4 May 1904. Eight days later, Will P. Rainwater deeded to Mrs. L. H. Petree the land that Lawson had given to his daughter Jennie (different spelling) on 28 Sep 1897 in return for a payment of $100 [Deed Book GG, Pages 301-302]. At that time he indicated in the deed that "Jennie L. Petree" was deceased.
On 6 Sep 1904, J. N. Barnes, acting as administrator of the estate of Lawson H. Petree, who apparently died without a will, sold the following property at public auction: 20 acres off the north side of #983 bounded on the south by the Little River, on the west by the line of Amelia Dobbs, and on the north by River Road; also 24 acres on the south side of lot #762 and lying north of lot #983; also 8 acres off lot #763, the south side bounded on north and east by lands of J. N. Barnes, on south by land of Amelia Dobbs, and on the west by the line of lot #762 [Deed Book GG, Pages 424-425]. The purchase price was $400 and the purchaser was Rhoda Petre.
We strongly suspect that this is actually Lawson's wife Rosanna, for on 1 Jan 1906, in deed book HH, pages 111-112, Rhoda Petree deeded to J. B. Mosteller 84 acres of land including the 40 acres in tract #962, 16 acres off the south side of #911, 20 acres off the north side of #983, and 8 acres from #963. This was given in consideration of natural love and affection, and for the further consideration of support and maintenance during her natural life.
Joseph B. Mosteller was the husband of Lawson and Rosanna Petree's daughter, Georgia. Jamie Schexnayder indicated on GenForum that Rosanna was living with the Joseph B. Mosteller family in both 1910 and 1920. This leads me to believe that the Rhoda in this deed is really Rosanna Dobbs Petree.
Joseph B. Mosteller's name is on the 1895 map, located in tract #1033 which is not far from the land deeded to him by Mrs. Petree.
There is certainly more to know about this family than we have learned from these few records. Perhaps others will be able to fill in the gaps.
The story of John and Mary Petree's legacy continued with their grandchildren, many of whom remained in the Central Georgia area, not far from their Cherokee County roots. We hope that these notes will prove beneficial to all of their decendants as they seek to remember their family's history.