Nida Hewett Smith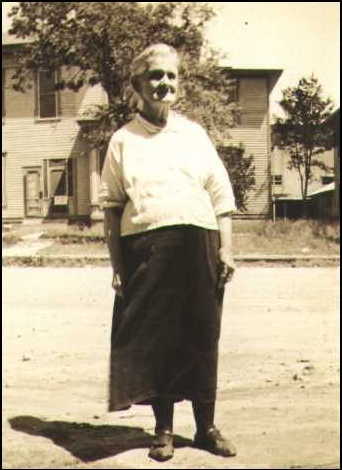 Nida Hewett Smith
standing outside her daughter, Ethel's house
in Austin,Texas, perhaps in the early 1930s.
Nida Levere Hewett was born 11 Oct 1847 in Natchez, Mississippi to Leander and Felicity (Paul) Hewett. She had a remarkable ancestry. She was descended from three Mayflower pilgrims through her father, and from a Revolutionary War patriot through her mother. To examine this ancestry further, follow these links.
Ancestors of | Leander Hewett | Felicity Paul |
Leander Hewett died in 1850, leaving Felicity to raise her daughters Gertrude and Nida. Felicity soon married again, this time to William Swain on 11 Oct 1852 in Natchez. The family was together there in 1860. [1860 Federal Census: Mississippi, Adams County, City of Natchez, page 67, household 499/499] William Swain was born 28 Jul 1830 in England to John and Mary Ann Bishop Swain. He and Felicity had a son they named William.
Felicity Swain and her son William were living with Felicity's brother, Peter Paul, in New Orleans at the time of the 1870 census [1870 Federal Census: Louisiana, Orleans County, New Orleans - ward 1, page 146]. Although it is not certain, William Swain may have died by then. Felicity's daughter, Gertrude, had married Henry Everett Ellis on 21 Mar 1861 in Natchez. Neither Gertrude nor Nida have been found yet in the 1870 census.
Nida married Alexander Smith of Pennsylvania sometime in the early 1870's, probably in New Orleans although a record of the marriage has not yet been located.
Their first child, a son they named James Henry Rees Smith, was born 19 Apr 1875 in New Orleans. They had three other children while living in New Orleans: Charles Wallace (b. 31 May 1877), Ethel Watkins (b. 27 Dec 1878), and Augustus Hewett (b. 29 Nov 1882). Their last child, Robert Quinn (b. 1 Apr 1886) was born in Vicksburg where they had moved in 1884.
Nida's mother was living with her in 1880 according to the census records.
Alexander Smith died in Vicksburg 31 Mar 1918. Nida went to Clarksdale in Coahoma County to live with her son Wallace and his family. Then sometime by or before 1930 she moved to Austin TX to be with her daughter Ethel. She later moved back to Vicksburg and was living with her son Quinn when she died 30 Oct 1938.